How to ensure your fire doors are fitted correctly
Fire door safety week helps raise awareness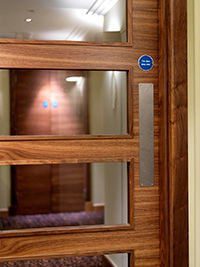 How many times have you seen a fire door propped open in a public building – perhaps a hotel, apartment / office block or even hospital – to help ease access or let in more air?  You've probably just walked past (I know I have) completely oblivious to the fact that if there was a fire, the building and its occupants safety would be seriously compromised.  Thanks to initiatives like 'Fire Door Safety Week' – now in its second year – our awareness is gradually improving.  However, it's not just about ensuring that a fire door is kept closed at all times, you also need to be confident that the door has been fitted correctly.
Fitting a fire door
First and foremost, it is important to emphasize that fitting a fire door is not a straight forward and simple job and if you are in anyway unsure, please employ the services of an experienced fitter who is a member of an accredited scheme such as FIRAS.  Even if you do employ the services of an expert, it is still worth understanding the key steps, so that you can check that the work has been completed correctly.
Labelling – check the manufacturer's labels on the door which give evidence that the door is certified and the fire rating.  E.g. FD30 – 30 minutes, FD60 – 60 minutes
Instructions – follow the manufacturer's instructions that come with the door to ensure correct installation.
Frame – ensure that the frame is correct for the door's fire rating and that it is positioned, fixed and sealed correctly.
Hinges – should be CE marked and CERTIFIRE approved.  Positioned and fixed correctly with the right type of screws and if required with intumescent pads.
Intumescent seals – should be fitted either to the door or frame, depending on the door's certification guidelines.
Mind the gap – the door and frame should be fitted together with no more than a 3mm gap between the sides and the top.
Ironmongery – locks, latches and closers must be CE marked and CERTIFIRE approved and compatible with the door's certification guidelines.
Take a look at this helpful video which explains in more detail the top tips for installing a fire door.