Many of JB Kind's fire doors are certificated by Warringtonfire and the products where this applies are identified by 'Certifire FD30 Fire Door' within their description.
The Certifire scheme is the authoritative voice in fire door safety and has widespread acceptance by the enforcement authorities – Building Control, the Fire Brigades and Trading Standards.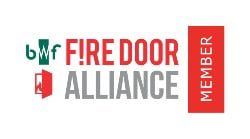 JB Kind's membership of the BWF Fire Door Alliance Scheme supports the promotion of third party independently assessed accreditations.
Certifire certification validates products suitable for use as fire doors and provides the means to independently authenticate the quality and performance of the doors to which this applies. Certification under the scheme involves rigorous type testing, audit testing and factory production control, combined with current fire test evidence and ISO9001 Quality Assured production, ensuring that the fire doors supplied will provide the same level of performance as those tested.
How to identify a Certifire approved fire door
Certified fire doors can be identified by a permanent, tamper-evident label affixed to every door. This label gives details of the door's fire rating, certification number, details of the manufacturer or supplier and a unique number for each individual door. All this provides specifiers, regulators and purchasers with the certainty that the fire doors will fulfil the standards expected of them.

As an independent scheme, in addition to awarding the certificates, Certifire undertakes regular factory inspections of fire doors and door sets in production to ensure the tested standards are consistently maintained.
What does a fire door test involve?
The door is always tested as a complete assembly, i.e. it is fully fitted within a frame with ironmongery and intumescent seals.
The test environment is heavily controlled with stringent safety and timing measures. The overall aim is to achieve a fire rating expressed in minutes. The most common ratings are FD30 (fire door 30minutes) and FD60 (60 minutes). Thus giving the reassurance that the door will last for the specified time rating when subject to fire.
Download our factsheet for more information on fire door certification.
To see a real live fire door test, view the video below:
This video has been produced by the BWF Fire Door Alliance, managed by the British Woodworking Federation and provides a short introduction to Fire Doors and provides information about the need for fire doors to be properly specified and fitted. It also includes a fire door test, where the performance of a correctly fitted fire door is compared with a fire door which has not been fitted in accordance with the guidelines.
---
Certifications & Memberships