How to Create a Door Pair
Door pairs or double doors as are they are often known, really do add a touch of style and class to a home and offer many practical benefits to public and commercial properties too.
Popular with interior designers, door pairs are often used to create larger open spaces by putting them between adjoining rooms. This enables the home owner, business or commercial premises to have a choice over their space management. It enables private or smaller spaces where desired and creates an open plan feel when the doors are opened to accommodate more people or to change the feel of a room.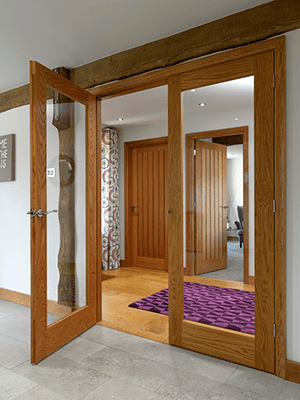 Create a Door Pair from Four Options
If you'd like to create a door pair, there are four options to choose from – whatever type of door pair you choose, we would recommend that the installation is undertaken by a professional joiner or door installer – fitting doors is trickier than many people imagine, and for aesthetic and practical purposes you want your doors to be a perfect fit.
OPTION ONE:
Door pairs with square meeting stiles
Two doors are fitted side by side, with their vertical edges – or stiles – coming together in the centre. For the pair to open correctly, a gap of 2-3mm will need to be left between the doors in the centre of the doorway. This ensures that they open and close without catching on each other, or 'binding'.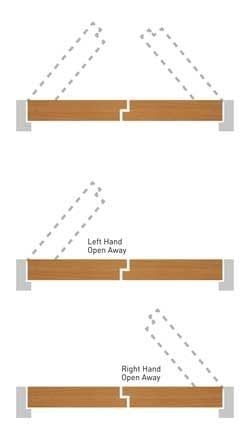 OPTION TWO:
Door pairs with rebated meeting stiles
This option allows for a first class finish, removing the small gap you would see with Square Meeting Stiles. Rebating means removing a section along the vertical edge of each door where they meet to allow them to snugly fit together. Around half the thickness of each door is taken off and when installed they smoothly interlock when closed.
To achieve a satisfactory finish, you need to have the appropriate tools, as well as the necessary skills and experience so this is best left to a door fitting professional. Our in-house joinery workshop provides a door pair rebating service, so you can be rest assured that your door pairs will be delivered ready to hang.
Important notes:
A rebate adapter kit will be required when fitting ironmongery
Not all doors can be rebated, as a minimum 15mm lipping around the door edge is required to machine the rebate.  We have noted within individual product descriptions whether they can be rebated from stock and if not, many of our door designs can be ordered as a rebated door pair through our ­bespoke options service with a slightly longer lead time.
You will need to specify your preferred 'handing', i.e. which way the doors open.  Please see below for an explanation of Door handing.
OPTION THREE: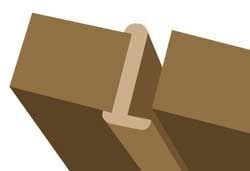 Create a door pair with a pair maker
A pair maker is a timber moulding that is fixed to the edge of one door, eliminating the gap that is present with square meeting stiles. An alternative option to rebating and JB Kind offer a purpose made, slim fitting pair maker for this purpose, please ask us for more information.
OPTION FOUR:
Pocket Door Pair
A pocket door pair is a superb solution where space is at a premium and where you would like to create a contemporary open plan look. With pocket door pairs the doors slide back into the cavities of the walls on either side of the doorway, removing the need for a door to swing outwards and take up vital room. JB Kind's pocket door systems are supplied preassembled and can be fitted in half the time of other brands.
Door Handing: determining which way your door pair will open
What is door handing? Simply put, it is the side from which your door swings when it opens. When ordering your rebated door pairs you will be asked to specify whether you require 'left hand open away' or 'right hand open away'. An easy way to work out your preferred option is to:
Stand facing the closed doors – or where the closed door pair would be if one is being newly fitted – push the door away from you. If it hinges on your left, then you will require a left hand open away door pair. If it hinges on your right, then go for the right-handed option.
Top tip: Make sure the door you will open most often is the one which opens first. Think about the position of furniture, light switches, room size and the flow of people through your home – all of these elements can be helpful in determining which door will get most use and which way your doors should open.
Matching door pairs cannot always be guaranteed, particularly with door designs that have horizontal grooves that go right to the edge of the door and may not line up after fitting. If you have any questions regarding matching door pairs, please call and speak with a member of our Sales team on 01283 554197.
---
Certifications & Memberships