How to Paint your Interior Doors
How to paint interior doors like a professional
As with anything, the time and trouble you take overpainting a door – whether it's external or internal doors – will make a huge difference to the overall finish. If you want to avoid the tell-tale drips, brush marks and poor finish of an amateur paint job, here is how to paint like a pro.
The ideal place to paint a door
Choose somewhere that is well-ventilated and free of dust, with good natural light. It doesn't matter what time of day you start, although bear in mind that the light will fade as sunset approaches, and this will vary depending on the time of year. If you are painting outside, check that there is no rain forecast or dampness in the air as this will hinder the drying process.
Choosing the paint for your door
Choosing the right paint will be determined by the location of the door (internal or external), the level of protection you need and your personal preference. It is worth getting advice from a specialist paint supplier. Bear in mind, too, the age and style of the property, the amount of use that the door gets and the colour and finish that will match your chosen décor.
Brushes or rollers
The choice between rollers or brushes comes down to personal preference. Rollers are generally easier but it's worth speaking to your paint supplier. Don't forget to paint the top and bottom edges of the door and you may wish to use a detail brush for smaller areas. Paint smoothly and carefully using even strokes and do not overload the brush or roller. Sand between coats and then wipe down with a damp cloth before applying the next coat.
Equipment needed:
You will need:
Door paint

Masking tape

Newspaper

Primer/sealant

Wood filler
Tools:
Screwdriver

Sanding block

Damp cloth

Paintbrush

4-inch paint roller
Step 1: Lay the door flat
The best way to paint a door is to remove it from the frame, take off all the ironmongery and fittings and lie it down flat on a sturdy surface, such as a tressel table. If it is a new door, it is best to fit it first to ensure that it is the right size before you go ahead and paint it. Read our helpful how to fit an internal door and external door guides for more information.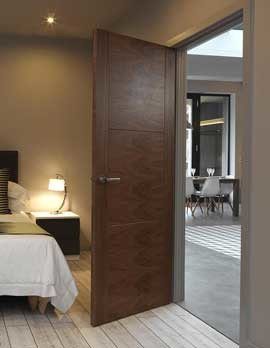 Step 2: Prepare the door
If you can't remove the door fittings then mask them carefully with masking tape, and also cover any glazed areas. Most new glazed doors will come with a paint and peel film already in place. For older doors use masking tape and newspaper.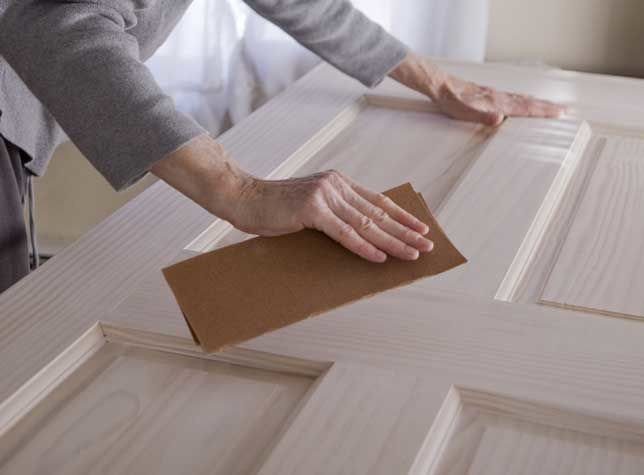 Step 3: Number of coats
The number of coats of paint you will need will vary depending on the quality of the paint you are using and your personal preference. Typically, two coats should suffice but you may prefer to use more.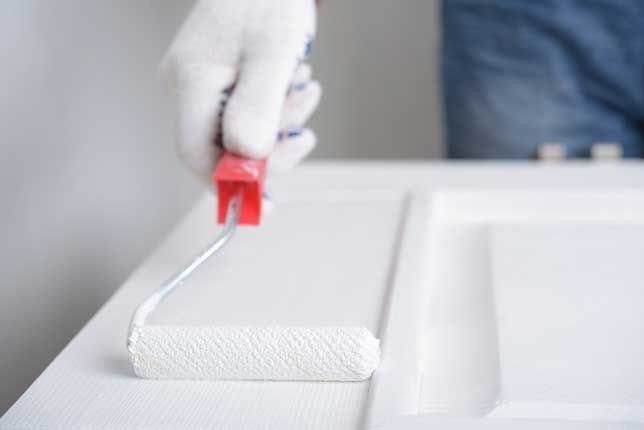 Step 4: Drying times
Drying times vary depending on a range of factors, including: the quality and type of paint or varnish you use; the environment you are painting in and the surface you are painting. Water-based paints will dry quicker – usually within three or four hours. Solvent-based paint requires significantly longer to dry. Always refer to the manufacturer's guidelines for drying times and don't overcoat too soon. As a rule of thumb, two coats of water-based paint should dry within a day in good conditions.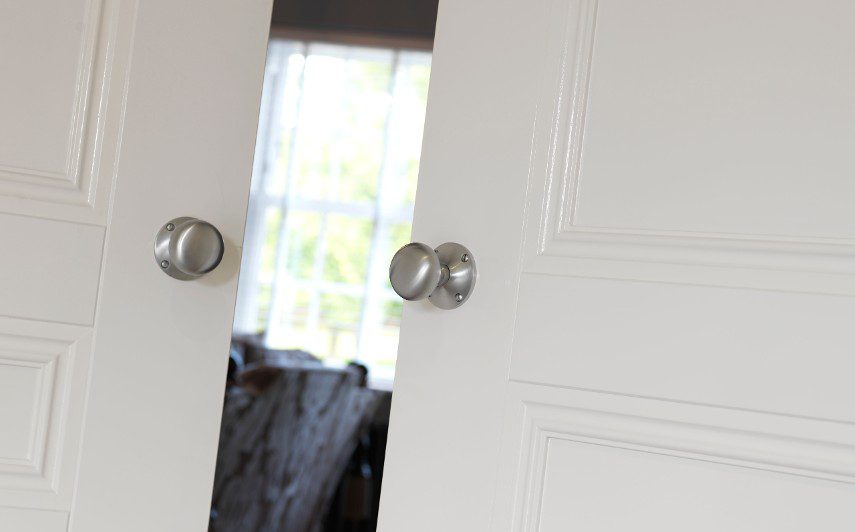 Click here to find out about our

door paint service
---
Certifications & Memberships