White Moulded Internal Doors
JB Kind's white moulded internal door collection includes some of the UKs most popular door designs. From the traditional Canterbury and Colonist designs to the modern style Quattro.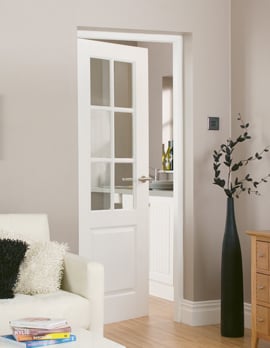 White Primed Internal Doors
The quality construction of our white moulded panel doors, offers a functional and cost effective door solution. Supplied ready primed for easy decoration and your choice of top coat finish. White moulded internal doors are very flexible, so whether it's a fire door you need, a pocket door or a bi-fold, you'll be able to find a style to suit your needs.

Many of our moulded panel doors are suitable for our Colour Options paint service, look out for the colour wheel icon but please note that we do not recommend this for our smooth finish moulded panel doors.
How Are Moulded Panel Doors Made?
Moulded doors are made from a piece of fibreboard that has been placed on a hot press to form a 'door skin' in the desired shape. Some skins have a grained wood effect, whilst others offer a smooth finish. These skins are then secured into place on top of the door framing and central core. The central section of the doors can vary from a standard core (e.g. cardboard egg box) to a solid core (e.g. chipboard). The finished product is then sprayed with a white primer, so that it is ready to be painted with a final top coat once insitu.
White Moulded Panel – Important Information
Please note that doors with a moulded panel construction are especially vulnerable to constant high humidity and care must be taken not to fit in new properties before plasterwork etc. has been allowed to dry out sufficiently.
Take some inspiration from our blog Why white doors might be just right for your home.
---
Certifications & Memberships