Contemporary White Internal Doors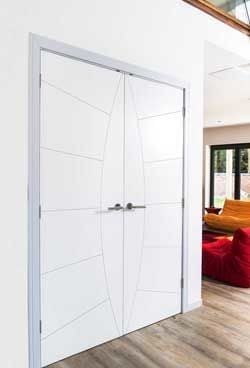 There really is nothing more wonderful than white when it comes to a door, and that's why we have a large selection of contemporary white door designs!
Pre-Finished & Premium Primed White Doors
While we do love white, we also recognise that many customers choose our white primed doors to paint them their own distinct colour to match an interior design theme. The majority of our white contemporary doors are supplied primed but we do offer a number of pre-finished white doors, like the Tigris and Novello. Just refer to the individual product details for confirmation of the finish for each door.

So, where to start with our white door collection? Well, making waves is our textured Ripple door that is perfect for painting an on-trend colour.
Decorative Feature Door Grooves
Feature grooves really add style to our contemporary white doors and you are spoilt for choice with the options available. From the eye catching Elektra to the subtle Mistral, we're pretty sure that you'll find the right white door for you.
---
Certifications & Memberships