Black Internal Doors
The demand for black interior doors has skyrocketed in recent years, whether it be industrial or classic style doors, black accents are an interior design staple and homeowners now have the confidence to be bold and go dark with their doors.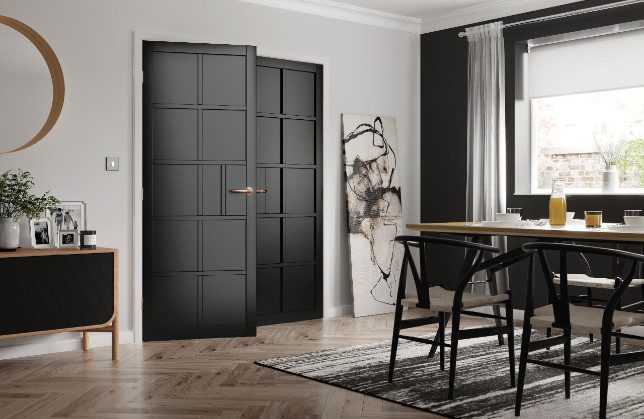 Industrial Style Black Doors
JB Kind's Urban Industrial black doors are the perfect complement for industrial-inspired interiors that incorporate mixed metals and rustic woods.
This style of the door was previously only available in metal, but thankfully JB Kind created a painted timber alternative that provides homeowners with a realistic and cost-effective industrial-style black door. One of the major benefits is that these black doors can be fitted into regular wooden door frames with standard ironmongery.
Supplied with a sleek painted black finish, Urban Industrial doors really do have a Wow factor and are by far the most popular door styles that JB Kind is tagged in on Instagram. The Metro Black won a poll as the most popular Urban Industrial door design, closely followed in second place by the art deco-style City Black door. What makes these black doors so popular? It is the desire to have glazed feature doors that let light flood into an interior space with an option to have a matching solid door where either extra light is not essential, or privacy is required.
Classic black panelled doors
Classic panelled doors have made a comeback! Style conscious interior lovers are choosing to paint classic style white primed doors their on-trend colour of choice – 'black' often being a favourite.
The flexibility to paint your primed doors, your chosen shade of black (there are many we can assure you), is the real winning bonus here. JB Kind's white classic door range is the perfect candidate, with a wonderful selection of doors that incorporate stylish flush mouldings within their panels.
For some more black door inspiration, read our blog How to Use Black Interior Doors in Your Home.
Black Door FAQs
Are black interior doors in style?
Yes, most definitely. Black interior doors, whether they are industrial style or primed panelled doors painted black are currently very on-trend. Check out JB Kind Door's Instagram page for inspiration from real homes.
Do black doors increase home value?
Upgrading your internal doors will always increase your home's value. Black doors are currently very on-trend, so are a good choice to make.
Do JB Kind black doors come fully finished?
Yes, JB Kind's Urban Industrial black doors are supplied with a painted finish and are ready to fit.
Are JB Kind black doors available as fire doors?
JB Kind's Urban Industrial black doors do not have a fire door option available. Unfortunately, it has not yet been possible to manufacture a fire door that looks in keeping with the Urban Industrial door styles.
Can you get glazed black internal doors?
Yes, JB Kind's Urban Industrial door range has a large selection of contemporary glazed black internal doors.
Are black doors suitable for pocket doors?
Yes, JB Kind's Urban Industrial black doors are suitable for fitting into one of their pre-assembled pocket door systems.
---
Certifications & Memberships