How to Use Black Doors in Your Home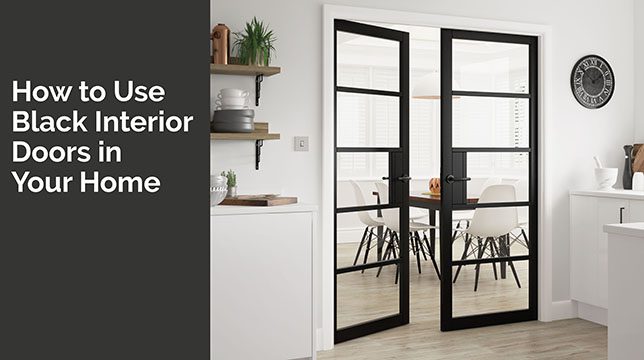 Striking, contemporary, and uber-sophisticated, the trend for black and dark interior doors is just going up and up. If you fancy giving your home a great facelift, swapping some of your existing doors for black ones – or perhaps even painting those you have – will really add an updated vibe to many different types of indoor space.
But how to do black doors well? This darkest of hues is commonplace in pretty much all our modern wardrobes today. However, we might not be so experienced in how to make black work when it comes to our home interiors.
To help guide you as to how you can make black internal doors really add a wow factor to your space, here are some stunning home interior images to provide some inspiration.
Monochrome
Simple and elegant, the classic monochrome look never goes out of style and always looks effortlessly great. Here @nataliescheshirehome has painted one of our Trent oak doors black, where it sets off her clean white walls and cupboards particularly effectively. This is a classic panelled style door and it looks perfect alongside the well-chosen black table and chairs which sets off the look brilliantly.
When painting doors black, details are important. Natalie has chosen to fit the door with black hinges, as well as a black handle. It means there are no distracting additional colours which could take away from the effectiveness of the monochrome look.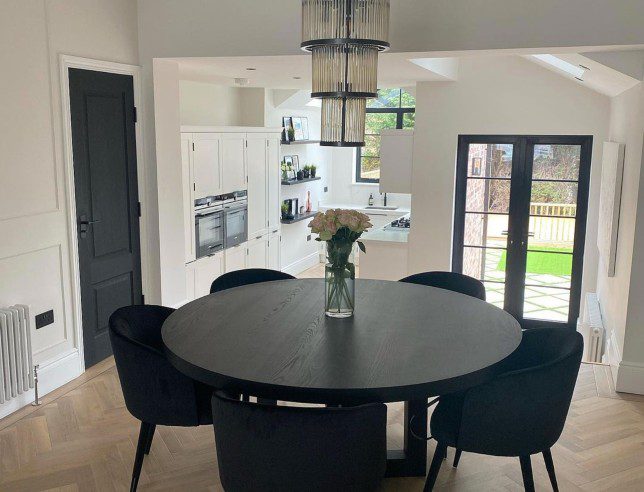 Letting the light in
One of the reasons why people may avoid black doors is for fear they will make a space too dark. But the good news is that using black well can really make good use of light, just as much as other colours can. Here @myblackheartdecor show our Metro Black glazed doors fitted as a pair. The clear glass really makes great use of the light, allowing it to flow in and out of the space. This is one of the doors in our Urban Industrial range, which celebrate the clean lines of this fabulous interior trend.
Another important detail to note here is how the skirting boards and architrave have also been painted black, which works just beautifully with the pale walls and floor.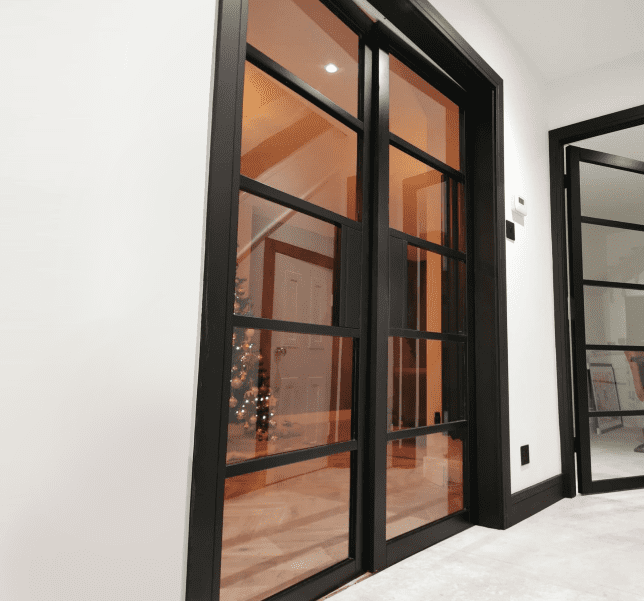 Dark on dark
Our highly popular Tigris, is actually dark grey, but we have included it in our selection to illustrate some important style points. The first one is this: don't be afraid of using a dark colour on another dark one within the home. Panelling is very on-trend and works so well here because it adds an extra visual interest, helping to break up the dark colours but also enhance them. Notice how the interior designer has not been afraid to use other dark colours too: a dark blue panelled headboard behind the bed and in subtle detailing on the bedside cabinet help provide a space that is highly sophisticated and restful. 
This Tigris Cinza door is one of our laminates range, meaning the colour will not fade or need re-painting – always a bonus!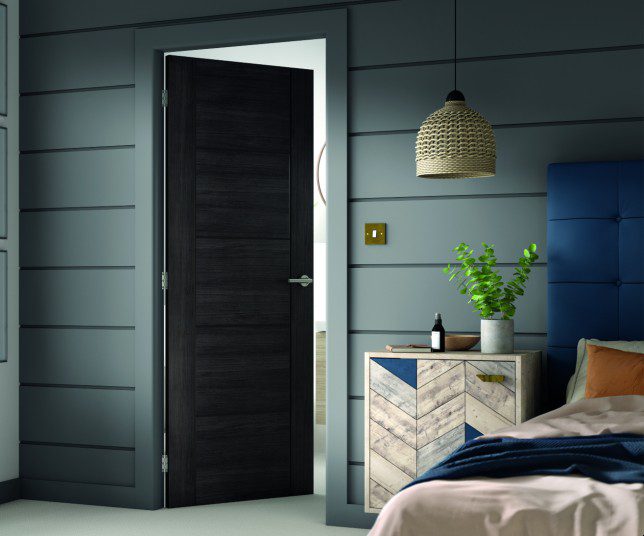 Natural comfort
It doesn't have to be all black and white! Here @project_34_selfbuild has fused calm neutral tones with our art deco inspired City Black door.
Striking a nod to Biophilic design and connectivity to the natural world, they have used wood effect herringbone flooring, paired with a muted grey colour on the wall and a hint of olive green from the plant to create a modern and relaxing interior.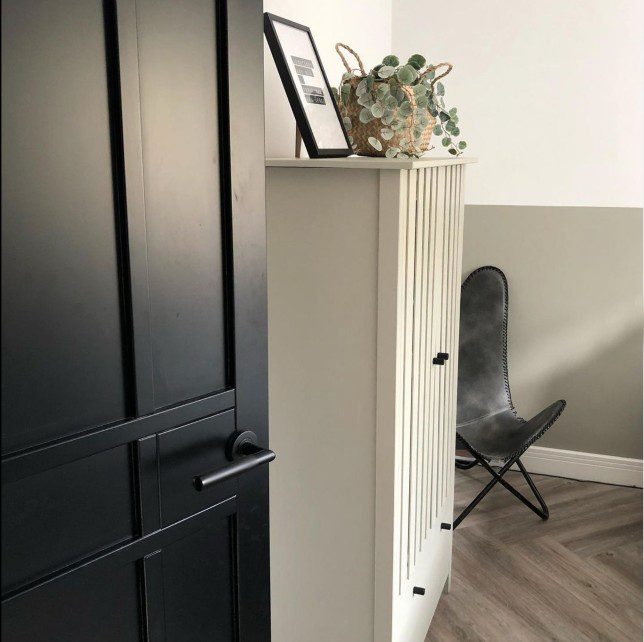 Dividing a space
A black door is a great way to divide a space, especially if you opt for a glazed version like this stunning City design, also from our Urban Industrial range. Used as a pair to divide this elegant room, this choice of door is a great example of how to mix up different design periods well.
The Victorian style interior in this terraced property makes a great home for the strong Art Deco lines of the City door. Please note, this door can also be fitted with tinted glass for more privacy, if required.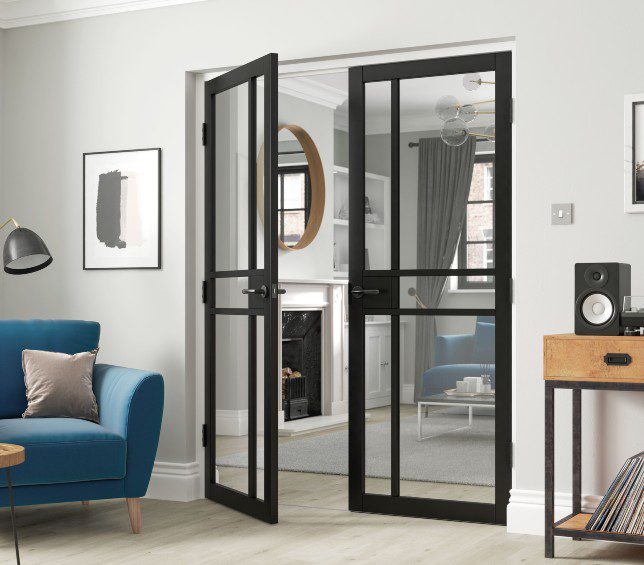 Making a statement
Here is another door from our laminates range, the ever-popular Alabama dark grey internal door. The dark grey colour of the door is really making a statement by being paired against white walls. It's always important to consider not just the walls next to the door, but the floor too. Wooden floors such as this one always look great with black.
Notice too how the angular lines of the side table really work well close to the dark cool of the door. As with all of our laminates range, the material used means the colour and consistency will be retained, and the wood effect adds some lovely texture to the space.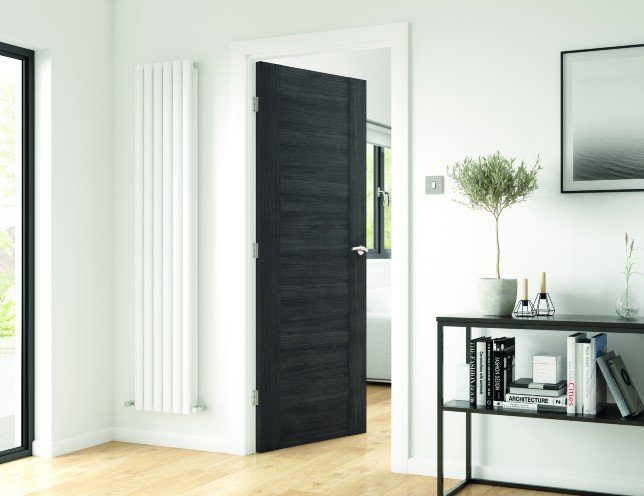 So, there you have it: a selection of different black and dark coloured doors, all used to great effect in a variety of interior spaces. Whether you pair your black doors with white, or with natural colours; whether you use them in a pair; as glazed versions, and whether or not you choose to paint surround features and accessories black too, we hope this selection will provide some valuable insights in how to do this most compelling of interior colours in fabulous style.