Pocket Door System Key Features
There are many benefits for choosing a JB Kind Pocket Door System, the main one being the fact that our pre-assembled pocket frames are so easy to install. You will not need to spend hours working out how to assemble the kit as only a few steps are involved.
To help you make your decision, we have listed the key features and product details for our pocket door systems below.
Key features of our pocket door systems: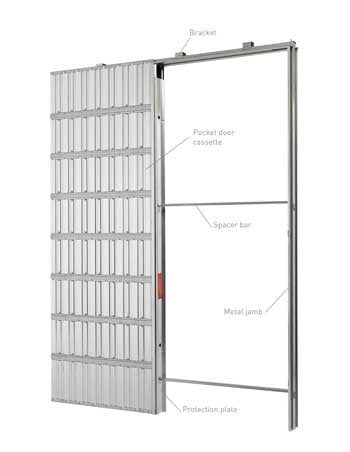 Easy to install rigid frame, supplied pre-assembled
Fitted in half the time of other brands
Designed for stud and plasterboard
The internal pocket cavity is protected by a cover during installation
Door is fitted after all installation and decoration has been completed, avoiding any potential damage to your door.
Door choice can be changed in the future without structural alteration to the wall.
Gives a finished wall thickness of 125mm
Suits door thicknesses 35mm
Maximum door weight 80Kg
Compatible sliding door hardware available
Available in single and double format
Pocket door system product info:
Ready assembled for easy and accurate installation.
The cassette structure is made from 0.5mm galvanised steel.
The cassette sides are formed from single pieces of pressed steel which is corrugated for complete stability.
Transverse ribs fixed to the corrugations further re-inforce the structure and allow fixing of plasterboard direct to the cassette.
Twin spacer bars are supplied that are fixed between the cassette and jamb during installation to ensure the structure remains square.
For more information, the following links will tell you more about our:
Single and Double Pocket Door Systems
Pocket Door Accessories
How to install a pocket door frame
How to order your pocket door system
---
Certifications & Memberships