How to Order Your Pocket Door System
Your Step by Step Guide to Ordering a Pocket Door System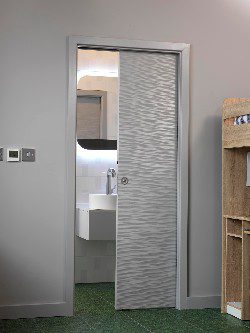 You've discovered the benefits, understood the key features and decided that you want to order a JB Kind pocket door system. Follow the steps below to be sure that what you order is exactly what you want and matches your requirements.
1. Do you want a Single or Double pocket door system?
Take a moment to check your pocket door size requirements against our size guide tables. And don't forget, if you'd like to order a double pocket door, you will need to purchase two single pocket door systems and a double leaf conversion kit.
2. Does your chosen door design work in a pocket door system?
At JB Kind we offer more than 200 different door designs and the majority of these are suitable for use as pocket doors. However, there are a few ranges that just can't practically be converted and it's sensible to check before you order. We've designed a 'Use with our pocket door system' badge to look out for in our brochure and on our website. If you're in any doubt, just get in touch and we'll guide you through your options.
3. What type of pocket door timber accessories will you choose?
Whatever type of pocket door you choose, you'll need an accessory kit as the pocket door system cannot be installed without one. Choose from either white primed or varnished oak, available for both single and double pocket door systems.
4. Have you remembered to ask for your door to be grooved?
This might sound complicated and costly but it really isn't, it just needs to be done! Door grooving is when the bottom edge of the door is grooved to fit in the floor guide of a pocket system. Save your joiner or builder some time, as our in-house joinery workshop can pre-groove your doors prior to delivery, it'll only be a small additional charge.
5. There are also more optional pocket door accessories for you to choose from:
Self-closing system: If you'd like your pocket doors to glide into place automatically after they have been opened, then our Automatic Door Closer optional extra is definitely for you. Soft-closing system: Known as a Soft Close Damper Unit, this accessory applies a brake making sure that your door moves slowly and smoothly to a close.
6. What pocket door furniture would you like?
Whether you want a privacy lock for a bathroom or a flush door pull, we offer a selection of quality fittings. Make life easy and source all of your pocket door related purchases all in one place.
7. Finding a JB Kind door supplier
So, we've covered all the technical stuff that you need to do and now you get to order your doors and pocket systems. Finding a supplier is really easy – take a look at the Supplier Locator on our website, where you can pop in your postcode to find a local outlet. You can also order from any of our Online Partners listed on our website.
Once you've chosen a place to purchase from, then just hand over all of your requirements and your doors and pocket systems should be with you in no time!
---
Certifications & Memberships