Internal Doors with Glass
Introducing more light into a room or adding an attractive design feature, are just two benefits for using glass in a door. Many of our door ranges have glazed door options and there are just a few examples below to illustrate some of the styles available. All of our internal glazed doors are fitted with safety glass and are available in various patterns to complement the door style. Clear, bevelled, diamond cut and etched glass are some of the most popular glazing types used throughout our door ranges.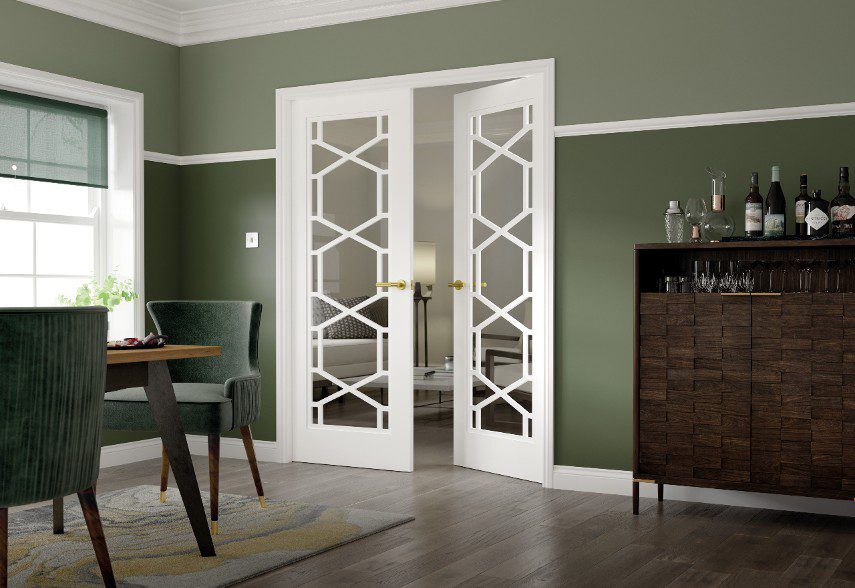 Our Internal Glass Doors
Here are some examples of the glazed internal door designs that are available.
Glazed Internal Doors with Safety Glass
Glass can be positioned in many different ways within a door. Whether you prefer a full glazing panel or smaller apertures, there are options to suit contemporary and traditional design themes. Glazed doors can also be supplied as a fire door, fitted with fire safety glass and supported by the appropriate accreditations. Our stock portfolio offers a selection of glazed fire doors and where there is a special requirement our Bespoke Options door service provides a variety of solutions.

Browse through our internal door ranges to see the wide variety of timber finishes and glazing options available. For further information or advice, please call us on 01283 554197 or complete our contact form.
Are glass internal doors legal in the UK?
In the UK, suppliers of glass internal doors must meet the safety requirements of British standards. Glass that is fit for purpose will always have a permanent safety mark etched into the glass. All of JB Kind's glazed doors are fitted with safety glass.
What is the best glass for internal doors?
Toughened or tempered safety glass will ensure that should the glass in the door break, it will granulate rather than break into dangerous shards.
Are interior glass doors soundproof?
Standard interior glass doors fitted in the home are not soundproof. Acoustic glass doors can be purchased through specialist manufacturers but they do not necessarily keep out all sound.
Can you have a glazed bedroom door?
Yes, if you wish to have a glazed bedroom door you can. We do tend to find that the majority of people prefer the privacy of a solid door but it really is down to personal preference.
Are fully glazed doors safe?
Fully glazed doors must meet British standards and be fitted with safety glass. Look out for the permanent safety mark that is etched into the glass. All of JB Kind's glazed doors are fitted with safety glass.
---
Certifications & Memberships