#FireDoorSafetyWeek 2018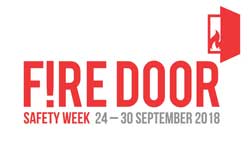 There have been more than 4,000 mentions of Fire Door Safety Week on Twitter already this year and it doesn't even begin until 24 September 2018, which shows that a growing number of people across the UK are taking the subject of fire door safety very seriously.
The topic, that has often hit the headlines only when tragedy strikes, is now a common conversation, and not just within the industry; it is being talked about universally, from coffee mornings to conference rooms, it's now mainstream, and individuals and businesses are investigating fire door safety and taking action.
Fire door safety advice
Consequently, the UK's overall understanding of fire doors is now more advanced too and this is, in many cases, a direct result of the awareness raising work that Fire Door Safety Week has undertaken. People and businesses have stopped just asking if they need fire doors, they've begun to realise that they need to make sure that any fire doors they purchase need fitting professionally and maintaining properly in order to be effective and to keep the occupants of the building safe. However, there is still plenty of work to be done to consolidate people's understanding and to reach new audiences, with Fire Door Safety Week's activities designed to continue to build on this excellent base line.
How to find out more about fire doors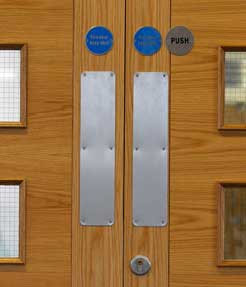 Fire Door Safety Week was the brainchild of a partnership between the British Woodworking Federation, the BWF-Certifire Fire Door Scheme and the Fire Door Inspection Scheme (FDIS) with support pledged from fire and rescue services from across the UK, as well as, at last count, 354 industry companies, of which JB Kind is one. Three million fire doors are being purchased and installed in Britain each year, with millions already in operation and in need of regular upkeep, and the numbers are growing all the time, so the need for ongoing awareness and professional advice has never been more acute. But what resources are there to support individuals and organisations that would like to know more?
Fire Door Safety Week Toolkit
The Toolkit has a dual purpose, it is chocablock full of useful information about fire doors for those people that would like to know more, but it's also a handy resource for those organisations that are already fire door savvy and who would like to promote Fire Door Safety Week to a wider audience. More than 2,700 Toolkits have already been downloaded this year and with a real range of useful support information from top tips, infographics and a media pack, it's no wonder it's been so popular!
Fire Door Alliance: Best Practice Guide to Fire Doors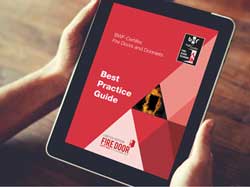 The BWF Fire Door Alliance is the leading authority on fire doors and, as such, is possibly the best source of information on fire doors that you will find! This FREE, downloadable, whopping 80-page booklet really does cover pretty much everything anyone will need to know about fire doors and, on the off chance you've managed to ask a question that's not answered in the document, it has contacts details of BWF so that you can find out! Don't be put off by the thought of 80 pages though, it's surprisingly easy to digest and there are plenty of diagrams to explain what, would otherwise be, a wordy section.
JB Kind Fire Door Information Centre & Blogs
If you're looking for more of a brief guide to fire doors and the topics surrounding them, then at JB Kind we offer a range of blogs which will take a far shorter time to read with links to more information where you may need it. For example, get a taster when you read Maintaining Fire Doors: Five Essential Facts or our more detailed blog, How to Fit Internal Fire Doors. If you're looking for more detail than these, then our Info Centre has a whole section dedicated to Fire Doors, which we think you'll find really useful.
Specification and Installation Video 
Found on the Home Page of the Fire Door Safety Week website, this eight minute video explains the importance of good fire door specification and installation with 3D graphics and in a way that non-fire door professionals will also understand, plus it shows a real test and what happens when we get it wrong! The video also features the Five Step Fire Door Check that the Fire Door Safety Week promotes.
Five Step Fire Door Check

This check is a simple five step process that outlines some tips from the experts on how to check your fire doors are working correctly. You'll find the full process on the Fire Door Safety Week website but we've included a brief summary below of the key aspects they advise you to look out for:
Certification: Is it an accredited fire door? Have you got the paperwork?
Gaps: Are the gaps around the top and sides of the door less than 4mm, and less than 8mm underneath the door?
Seals: Are there any intumescent seals around the door or frame, and are they intact with no sign of damage? 
Hinges: Are the hinges firmly fixed (three or more of them), with no missing or broken screws?
Closing: Does the door close properly?  
Building specific advice: Fire Door Safety Week Website
The font of information that is the Fire Door Safety Week website also includes advice on fire doors that relates to the specific building type that you may be responsible for. For example, are you looking for advice on a school, hospital, office, shop or for private rented housing? The Advice section of the website has eight different categories of buildings that it offers advice on, which covers at least 17 different types of use. You'll be hard-pressed to find a building that this advice doesn't cover so why not log on and find out what you need to know about fire doors and the property that you are in charge of?