Fire Door Safety Week: 26 September – 2 October 2016
Spreading awareness about fire doors will save lives!
Fire Door Safety Week hasn't even started yet but already more than 2,700 safety toolkits have been downloaded, it's had more than 3,000 mentions on Twitter and it has more than 350 individuals and companies (including JB Kind of course) that have pledged their support to the cause.


Fire Door Safety Week was the brainchild of BWF- CERTIFIRE Fire Door Scheme to raise awareness of the vital role of fire doors and how fitting and maintenance play an essential part in their effective operation, encouraging people to check their fire doors are working properly.
Linking to, and commemorating, the 350th anniversary of the Great Fire of London – the event which gave rise to modern day Building Regulations and our need for fire doors – there are a range of fire door awareness activities taking place across the country.
There are more than three million fire doors installed every year in the UK, plus many more already in situ – most are made from timber – and most are people's first line of defence should a fire occur. So what to do next?
The Five Step Fire Door Safety Check
If you already have fire doors, then why not take some tips from the experts on how to check that they are working correctly. The Fire Door Safety Week experts advise that you check for five key aspects – here is a summary below:

Certification: Is it an accredited fire door? Have you got the paperwork?
Gaps: Are the gaps around the top and sides of the door less than 4mm, and less than 8mm underneath the door?
Seals Are there any intumescent seals around the door or frame, and are they intact with no sign of damage?
Hinges Are the hinges firmly fixed (three or more of them), with no missing or broken screws?
Closing: Does the door close properly?
If you'd like to know why these aspects of door installation and operation are particularly important for your fire safety then take a look at the detailed explanations on the official website at Firedoorsafetyweek.co.uk/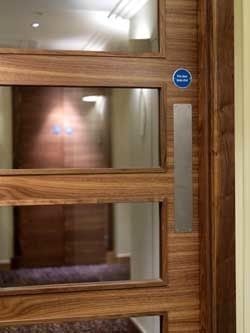 Finding out more about fire doors
If you don't already have fire doors and need to know more about procurement, certification and installing them professionally then why not have the benefit of the online expert advice? Take a look at the Advice section of the website and you'll find everything you need. With specifically tailored advice on fire door requirements, purchase, maintenance and inspection for different types of buildings and sector, you'll find exactly what you need whether you are private landlord, facilities manager at a public building, a care home owner or a hospital head – and there are many more sectors covered besides these, so it's worth taking the time to take a look.
Get involved with fire door safety week
Luckily the Fire Door Safety Week team have been hard at work and have produced a whole range of resources for you to use. There are videos you can watch to raise your awareness and that of others, there are posters you can display that outline some simple fire door safety top tips and free copies of Fact Cards for you to distribute that cover all aspects of fire door specification.  There's also the power of Twitter to share all of your messages and events #FireDoorSafetyWeek.
Happily, whether or not it's the official Fire Door Safety Week the website is available all year round and if you ever have a question or query about fire doors, the JB Kind team are always happy to help.