Tricks and Treats for Your Home at Halloween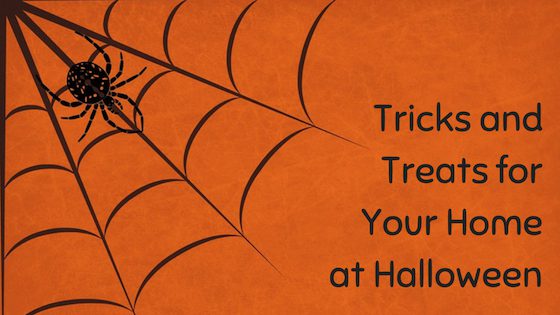 For all of you creative and crafty folk out there, Halloween offers the perfect excuse to add a splash of fun to your home's interior and exterior. Perhaps you're planning a party or maybe you just want to enjoy doing something fun with your family – whatever the reason, turning your home into a Halloween shrine is guaranteed to bring laughter and maybe a few frights to this occasion.  
We've got some interesting Halloween home decor ideas for you to choose from and we've ranked them, so you can choose what vibe best suits your home and lifestyle. The only question is, how scary will you go?! 
Harmless Fun 
This is the lowest level of scary you can go and in all honesty its more comical than scary! This is most definitely for the kiddies. 
Here you can go crazy carved pumpkins, 'worm' jelly sweets, silhouette backdrops, lanterns galore and let's not forget the classic fake ghosts, made of old sheets and stick on googly eyes!  If you have any leftover googly eyes, another cost-effective idea can be to wrap some jam jars in medical gauze and then stick on some eyes – behold the mummy jar! 
Incorporating Halloween themed treats will go down very well with your younger guests. Try simple bowls of green jelly slime, spider cupcakes and carrot fingers. Another fun idea is making creepy smiles from sandwiching two apple slices together with peanut butter and inserting some mini marshmallows for teeth.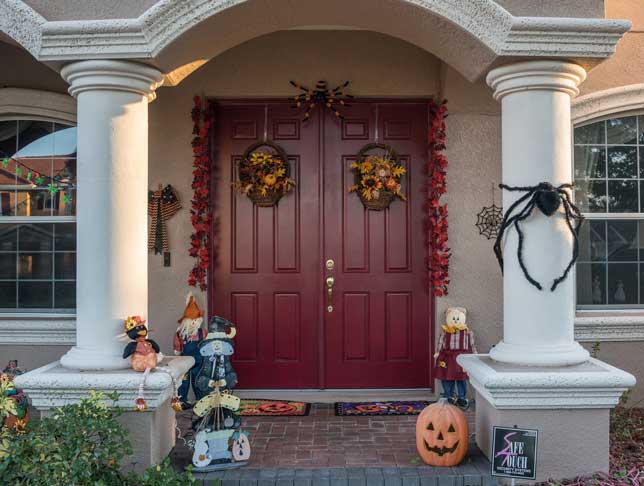 Fear Factor  
Now, here we're taking things up a notch and let's say this is about a mid-level of scary – so a bit creepy but won't give you nightmares! 
For example, a manikin hand with a touch of fake blood makes for the perfect bowl to hold your snacks or even bury some manikin arms in the flower bed of your front garden.
Investing in some props such as a porcelain doll which you can dress and make up to look haunted is a great way to bring the fear factor feel to your home. Drape your doors in heaps of fake cobweb, fake spiders and add some fake fog using dry ice or a fog machine for truly eerie entrance to your home. 
Another unique idea is to print black and white pictures of people from a historical era and using craft knife, cut out just these eyes! Then stick these onto plain glass candle holders. The effect when illuminated by the candle light is really quite effective.  
Adding creepy sound effects, low level lighting or strobe lights to resemble lightning will further add to theatre, bringing to life your eerie scene. 
Get Me Out of Here!
If you're looking for more of an 'adult only' affair, you'll want to go for decorations which are as realistic as possible. We're talking fake blood, mock dead bodies and anything even remotely gory or gruesome.
 
For example, stuff some jeans with plastic bags and arrange in a position which resembles a real body, splatter with fake blood and cover the top half with an overturned wardrobe or piece of furniture, to resemble a very unfortunate accidental squishing! 
For those of you who can stomach it, you can of course head to your local butchers for some very real offal! Simply choose your animal organ, put inside a glass jar, seal (you know, to keep out the smell!) and voila – instant gory table décor! 
Another realistic yet not quite as gory Halloween ornament, head to your local woodland in search of some animal skeletons, then just add a few fake cobwebs for full effect.