Door Finishes
If your new internal doors are supplied unfinished, you will want to ensure that you choose a quality finishing product to maintain their long term appearance and performance.

There are numerous brands available on the market and we fear that some are formulated to achieve a low market price rather than quality.

If you are purchasing any unfinished doors from JB Kind, it is imperative that they are sealed on all faces and edges to help protect the guarantee.

Good quality solvent or acrylic finishes may be used, but check that they are suitable for use with timber laminates or veneers. Always follow the manufacturer's instructions carefully and avoid over-applying the treatment, particularly the first coat. If in doubt, consult a specialist Decorating Merchant.
For a perfect oak door finish
We strongly recommend the following finishing products that have been tested on our unfinished oak internal doors with excellent results.

It really is personal preference on whether you choose the oil or the varnish. The main difference is that the oil penetrates the wood veneer protecting it from the inside and leaving a thin wax layer on top, whereas the varnish creates a protective coating on top.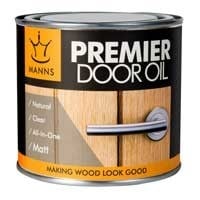 Manns Premier Door Oil
All-in-one solvent based hard wax oil that dries to a natural clear matt finish.
Suitable for unfinished timber veneered doors.

Easy to apply and does not peel or flake.

Get Manns Door Oil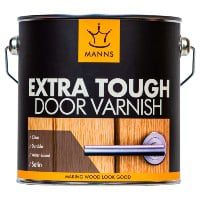 Manns Extra Tough Door Varnish
A clear, non-yellowing, water-based acrylic varnish that dries to an attractive satin sheen

Manufactured to achieve superior durability on interior wooden door surfaces.
Get Manns Extra Tough Interior Varnish
For guidance on how to prepare and finish your oak doors with either the Manns Door Oil or Varnish, please watch the step by step video guides below.
How to oil an interior wooden door
How to varnish an internal oak door
Note:
Natural oils such as Danish Oil, tung oil and linseed oil are not suitable for use with any of our products. These solutions are penetrating oils and are not suitable for use with veneered doors. Please refer to our Essential Door Care & Maintenance Advice for more information
---
Certifications & Memberships