Top 5 on-trend doors for 2020
It's always good to be aware of trends and fashions. At JB Kind we have doors of all kinds and styles for every budget and pocket, but which are the ones most in demand right now?
From our uber-stylish new Urban Industrial range to the elegance of our stately-home inspired White Classic doors, we've got some fresh new designs that we are very excited about – and it seems our customers are, too!
1. City Black Clear Glass
This smooth, slick, and downright beautiful door is part of our new Urban Industrial range. Inspired by the trend for industrial style interiors, the City Black looks simply terrific in ever-stylish black. With its clean, geometric lines, this art deco style just never dates. It looks simply wonderful in any kind of contemporary interior, and choosing it in glass means the light will just flood in – which is a big part of what the urban industrial look is all about. It's gorgeous in black but it looks equally fabulous in white, too, and you can also have the same design in a solid and tinted version too.
We haven't sacrificed practicality in favour of design, so if you're going for this door it's good to know that unlike others on the market it's made from individual panes of glass for added stability. Also, the lock block is solid which means there is no risk of drilling into glass. Regular handles, latches and hinges can be fitted as specialist ironmongery is not required.
2. Metro Black Clear Glass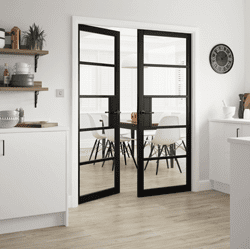 Another in our fabulous new Urban Industrial range, the Metro Black boasts a visually arresting ladder-style design, creating a striking look that's also proving a winner with our customers. Again, as with our City design, this door has all the benefits of allowing light to flood into a space due to its clear glass design. You can also choose it in stunning white and as a solid door in which the ladder design creates a subtly different effect.
The Metro has all the same practical advantages as our City Black Clear Glass, giving you peace of mind that when you opt for the pinnacle in style, you certainly won't have to sacrifice on practicality.
3. Colorado Grey
The passion for grey in interiors shows no sign of abating, which makes our stylish grey Colorado ever popular with customers. Plus, Colorado is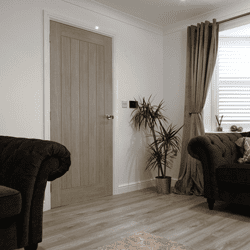 one of our laminates range, great for those who want durable style that's also kind on their pocket! This door updates the popular cottage door style with an attractive grey colour finish.
Greys continue to be all the rage in interiors as this contemporary shade just goes brilliantly with so many other colours. It provides a nice contrast to blues and teals, as well as a lovely complement to an all-white interior. Pair it with almost any colour of the rainbow, in fact, and it will look fabulous.
4. Catton White
The Catton is part of our White Classic range, which has taken a style leaf out of Downton Abbey and the current trend for all things stately. This classic panelled internal door is proving a hit with our customers who are loving its three recessed panels with decorative flush mouldings.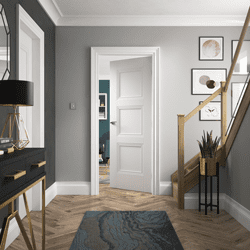 The Catton looks just great in white, but even better news is that it's suitable for our Colour Options Paint Service, which means it can be professionally spray painted any colour in the RAL Classic range. Whether you choose it in navy blue, grey or black … the classic design will win style points every time.
5. Tigris Lava Grey
The Tigris light grey internal door continues to be on-trend with our customers. As with the Colorado, the cool, contemporary grey is a hit with style lovers while the laminate finish that combines great visuals with practicality is always popular with buyers who have an eye on budget as well as design.
The five ladder-style panels give this door a funky look that is as effective in bathrooms and kitchens as it is on living spaces. Thanks to being laminate, it has a uniform finish that makes it ideal for matching with other interiors.
The Tigris Lava looks great in grey, but it is also a big hit in oak, walnut and white – presenting an array of 'looks' to suit every interior.