The Best Christmas Gifts for Interior Design Fans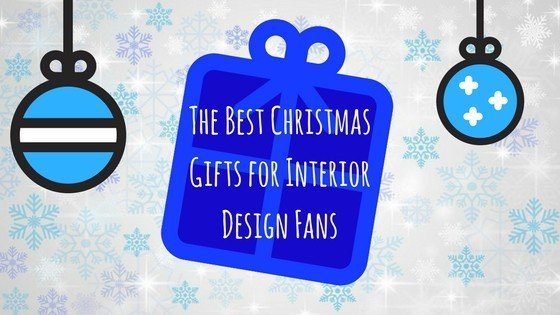 There are those amongst us who have Christmas shopping completed in October and those of us who make frantic purchases on Christmas Eve. The military operation that is gift buying this festive period doesn't need to be stressful, particularly if you have an interior design lover in your life. From gadgets and books, to decorative pieces and practical items, we have you covered with the best gifts for interior lovers, architects, and DIY fans. Sit back, relax, and fill your virtual shopping carts for your family and friends.
The Best of Grand Designs
Where else to start than the TV gold that is Grand Designs? Whilst we have devoured countless episodes of the programme that sees some of the most impressive renovations and new builds take shape, having the crème de la crème of what the programme has offered up over the years could be an ideal gift.
The Best of Grand Designs is a glossy hardback that will have any budding home enthusiast flicking through the pages for the next nugget of inspiration for their own Grand Design.
Moleskine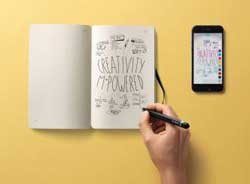 Whilst it is a little on the pricey side, the Moleskine Smart Writing Set will take the creative notes and sketches of interior design buffs to the next level.
Instead of your usual biro or pencil, the set comes with Pen+.  This clever aluminium implement is a pen with a concealed camera which traces and digitises every mark that is made with it. Completing the tech set is the Paper Tablet notebook (pages with an invisible grid which helps the pen track the movements made) and the Moleskine Notes App – where all the digitised files are stored ready for edit or export.
Concepcion Studios
For those interior design lovers in your love who are effortlessly and exceptionally cool, a poster from Concepcion Studios is the only way to go.
Whilst a poster may not sound that enthralling, these works of art put a mid-century-modern and retro graphic-design spin on pop culture. The silk-screen prints range from Donnie Darko to Stranger Things and will be an incredible feature in any living room or study.
PANTONE View Home + Interiors 2018
An entire PANTONE book rich with colour swatches, inspiring rooms and new trends for 2018? Count us in!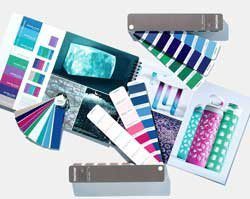 The incredible hardback book, although eye wateringly pricey, will help every savvy interiors fan stay ahead of all the new looks for the coming year. In this issue PANTONE promise that their key colour stories for 2018 break free from traditional thinking: colours are revitalized, hues are mixed in novel combinations, and new colour directions express a fresh approach that satisfies the consumers' need for newness.
Mini Materials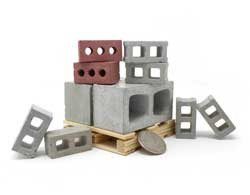 For the budding designers, Mini Materials allows you to get your hands dirty on a more affordable and downsized scale. Essentially, the company produces mini cinder blocks, bricks and breeze blocks that can be used to build small structures. Along with the Mini Materials mortar, this is a great Christmas present that is both technical but fun. You can even access blueprints to build mini planters and smartphone charging stations with your tools.
Bad Marlon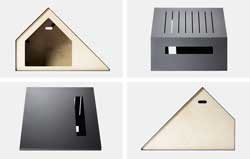 If your interior design lover has a dog, Korean brand Bad Marlon has some of the trendiest products on the market. Unlike the pet ramps and accessories which are practical as opposed to aesthetically pleasing, Bad Marlon has made them undeniably chic. The access ramps are minimalist edgy stairs which would not be out of place in any modern apartment and their dog kennel, known as the Deauville S House, looks more like a sculpture.
DodeCal Calendar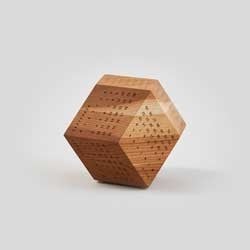 It may look like a bizarre mix of a rubix cube and a teaching implement, but DodeCal is actually a 12-sided three-dimensional calendar. It was created by London based designer Ric Bell in 2016 and the first edition 2017 calendar sold out in just 7 days. This year's offering is made from American Cherry wood and is completely designed and manufactured in the UK, the Lake District to be exact! A fantastic piece of British design for any home owner with a penchant for interiors.
Lego Architecture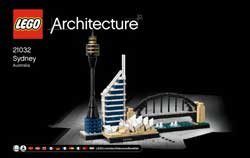 Regardless of age, anybody interested in any aspect of structural design will be interested in Lego's Architecture range and there would be many delighted faces on Christmas morning. Many interior designers and architects unknowingly started their careers with Lego at a very early age and the range is nostalgic for this reason. If you think this is a great idea for a loved one you can select structures from New York City to the Arc de Triomphe.