Panelled doors are making a comeback
For many different types of interiors, there's nothing that gives a space a fresh style uplift like a panelled door.
The human eye is drawn to pleasing geometrical shapes and that is exactly what a panelled door gives to a room: a sense of harmony and balance.
While a smooth, unadorned door suits pared-back, contemporary rooms, many of our customers are now flocking back to our panelled designs. This may be because of their classic 'look', which chimes in well with the current desire for simplicity and elegance. Another reason for the enthusiasm for panels may be because these designs tend to lend themselves well to glazing, enabling people to choose the same kind of door in a glazed option where needed, creating a harmonious feel to a home.
The new White Classic range
With all that in mind, we're extra excited this year to have launched a new panelled door range inspired by Britain's finest stately homes.
Introducing … the Belton, the Catton, the Osborne and the Hardwick: our new white primed doors range. We've taken our inspiration from the elegant drawing rooms and dining halls of the sumptuous houses after which our doors are named. All feature a classic panelled design with attractive flush mouldings.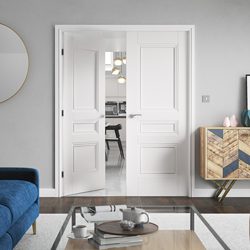 First up, the Catton has three evenly spaced panels, a design which looks just as refined in its glazed partner. The Osborne, in contrast, also has three panels but the middle one is much smaller, creating a delightful 'letterbox' style. The Belton has a much simpler appeal with its rectangular central section – which also looks wonderful in its glazed version – while the Hardwick features a classically elegant 'top heavy' two-panel design.
As has been illustrated in this year's Door Collection brochure, our new White Classic doors look wonderful on their own, but simply terrific when hung as door pairs. They can also all be painted any RAL colour of customers' choosing, thanks to our new Colour Options Paint service launched this year.
Contemporary, cottage, shaker … the versatility of panels
Our Door Collection also features many other panelled designs which have attracted a loyal following over the years. That's the beauty of panels: they can capture so many different 'looks' from sweet and cottagey to elegant and refined. Our ever-popular cottage style doors, for example, range from vertical strip panels – as in the Thames – to our lovely Rustic Oak range with its timeless designs.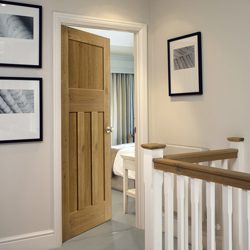 But panelled doors are so versatile that they can easily create a cool, contemporary style of door, too: just check out the grooved ladder-style panels in the Tigris and Mistral. Both available in oak, walnut and white, these doors are a great example of how panelling is used to create a more modern look, which is no less refined for that. Laminated doors, too, look great with grooved panelled designs: you only have to admire examples such as doors like the Lava. And panels don't have to be used in complex designs, either, just one slightly recessed panel such as the one in the centre of the Alabama Fumo and Cinza show how stylishly effective this can be.
The classics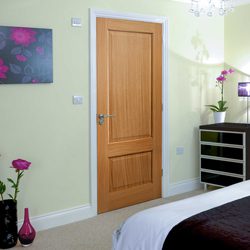 Or you may prefer to stick with the classics: classic oak doors such as our Royale, Trent, Charnwood and Derwent show off the best in traditional panelling design for a solid, dependable look, while the shaker range such as the Axis or Snowdon is another classic look from over the pond for those who love this all-American style.
Whichever panelled doors you choose, you're certain to find with their mathematically perfect lines and subtle designs, they will blend in beautifully with your home.