Our 5 Favourite Pinterest Boards for Doors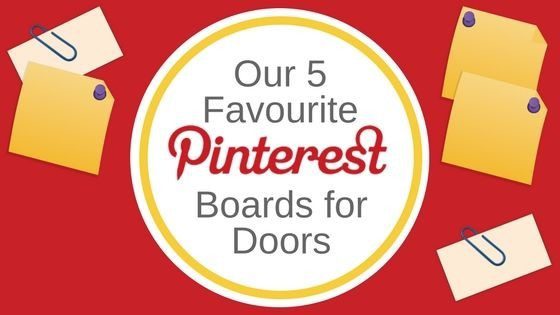 If you haven't signed yourself up with a Pinterest account how have you been coping? For those not in the know, Pinterest is a platform that allows you to create virtual mood boards with countless images of inspiration by 'pinning' – like you would on a conventional pin board. From 'Dog Halloween Costumes' to 'Medieval Dungeons', there is a board out there for those with even the most peculiar of tastes. However, Pinterest is undoubtedly revered as a hub for interior design inspiration; prepare to do nothing else but 'Pin'. It's addictive.
Here at JB Kind we like to think we are up to date with the latest home trends and, we can't lie, we may have snuck time in 'Pinning' when we could have been working. Below are some of our favourite Pinterest boards related to doors, presenting some fantastic creative ideas. Don't forget to give the JB Kind Pinterest a follow also!
A Splash of Colour
We are advocates of colour and believe the hue of your interior or exterior door can reveal a lot about you. Whether opting for a bold yellow or sedate grey, painted doors can transform spaces and give your home a completely different feel.   JB Kind's favourite board showing the cream of the crop when it comes to painted doors is from interior blogger Joan Waddel. Her painted interior doors board shows a variety of colour doors, from the vivid to the subtle.
Keep it Natural
For the traditionalists amongst us, nothing beats a slab of trusty oak. A strong and durable hardwood, oak has been a popular choice for doors for as long as time can tell. Many assume that oak doors fit best in countryside properties, and whilst it is very becoming, there are now ranges of classic and contemporary oak doors to suit every home.
It seems that Luke and Nadia, the owner of our favourite oak doors board, are fans of interior design. What stood out to us with this board was the range of oak doors, some with intricate carvings, some historical and some incredibly modern. What a fantastic mix!
Something Different
Maximise space. Flood rooms with light. Visually different. Just some of the benefits of installing bifold doors in your home. Bi-fold doors can be used externally and internally, in place of regular doors, or for cupboards, studies and bathrooms. Bi-fold doors are not only practical, but aesthetically pleasing and can particularly help those with awkward sized rooms where a traditional swing door would be in the way.
Sarah runs a beautiful bi-fold doors Pinterest board, show casing the way in which they can allow light to add brightness to the home. If you want to see how bi-folds can fit into a crisp interiors style, this board is for you.
Add Some Sparkle
Sometimes a simple change of a handle or addition of a door knocker can have a tired door feeling brand new again. Just like we put on our finery to transform our look, the same can be done with our internal and external doors. Door furniture can range from the classic to the bonkers and there is undoubtedly going to be something out there to suit all tastes.
We cannot get enough of Margaret Urwin's door furniture board. It is rich with beautifully designed and quirky door knockers and handles. We particularly love this beautiful rabbit door knocker, the detail is amazing. Psst, rumour has it, it's from Anthropologie!
Keep it Unique
Working with an expert to produce a bespoke door is a wonderful experience. Knowing that you have a product that is completely unique and made for your home is very special and can add an interior design edge to your home. Whether it is shape, colour or finish that sets your door apart, bespoke door options are fast becoming a popular choice for interior design fanatics.
It may be a shameless plug, but we love our very own unique doors Pinterest board. This incredible wood and glass external dragon themed door is a creative marvel, we wonder who lives here?