Mini House Hacks to Give You Maximum Space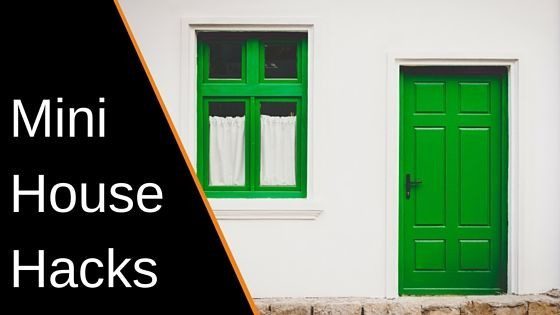 Some of us aren't blessed with acres of space, or simply don't desire it. Hunkering down in a miniature home can have its benefits, but they can often become cluttered easily and the 2am blind stagger for a glass of water can become a treacherous obstacle course.
Short of stepping on a plug, nothing can be as debilitating in a smaller home as lacking substantial storage and subsequently living in chaos. The 5 hacks below will help you refine your mini living spaces to maximum effect.
Bookshelf Door
A door bookcase rammed full of literature can make you look extremely cultured, but for those of us who do not harness the English language quite as well, your door shelf can be full of ornaments, plants and keep-sakes. Utilise the unique space however you wish.
Not only does this hack make you feel like you're in a murder mystery film, it also saves having a chunky book case invading the room.
Granted, it is likely you will need to harness the skills of a carpentry expert or a friend in the know, but the finished product can save much needed living space.
Exposed Wardrobes
Source:
Salvage Life
Like bookshelves, wardrobes can be hefty items that eat space. You can make your own clothes rack or, since they became trendy in the home interiors world, the internet is full of readymade options.
You can get extremely creative when it comes to exposed wardrobes, adding different shelves and partitions to suit your needs. For super small rooms, think upwards instead of outwards. Having multiple hanging levels floor to ceiling works the same as skyscrapers in the city; minimum ground space, maximum capacity.
Sliding Doors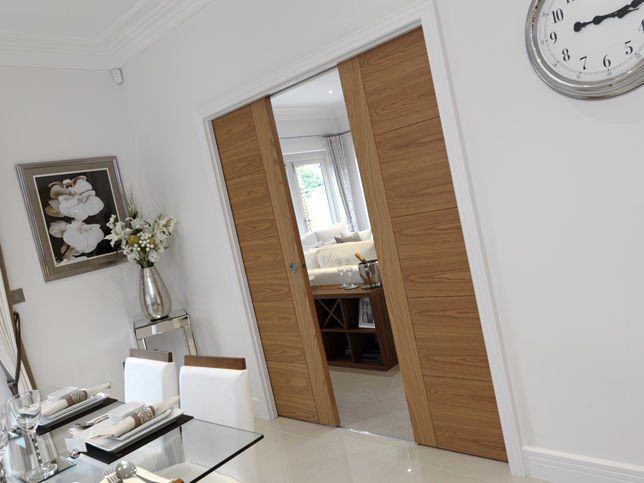 Also known as pocket doors, sliding doors fit into a wall cavity and are ideal for saving space. Nobody wants a lounge where the door clashes with the sofa and you have to perform a gymnastics move to enter. Sometimes, no matter how much you reshuffle the layout of your room, the door will always be an issue. Sliding pocket doors are an excellent way to enable rooms to be full of appropriate furniture, whilst still being accessible.
Another option is to be brazen with your sliding door; having the rails on show and harnessing them as a unique design feature.
Take The Inside Outside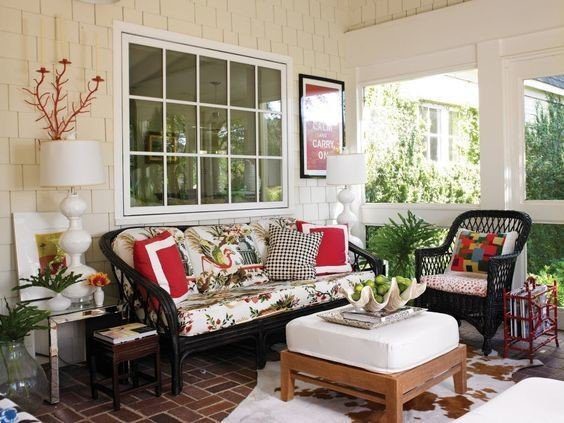 Now this option isn't always ideal considering the British weather, but utilising outdoor areas as extra living space in the warmer months is an ideal way to expand on smaller homes. Patios, conservatories and sheds can all be tweaked to act as genuinely comfortable homely spaces.
Thrifting or upcycling furniture such as sofas, coffee tables and lamps to fill these areas can make tiny homes feel as they have a multitude of living areas available.
Under The Stairs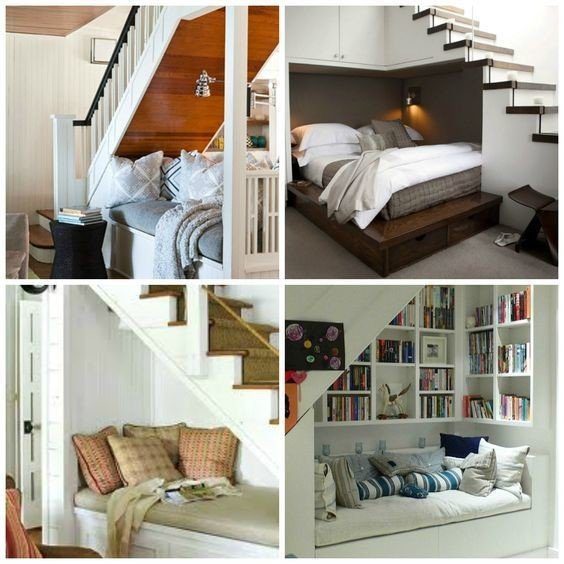 More often than not, the space under the stairs is often blocked off or used as a graveyard for family junk. However, tiny homes can benefit from optimising this valuable space.  Sofas and even beds can be built into these little spaces, along with shelving to hide away books and mementos.
A great idea who those who make the space into a miniature sofa is to apply hinges to the lid of the seat and use the empty space below as extra storage for shoes, umbrellas, and general outdoor gear.
Other great ways to make the most of your space under the stairs is to convert it into a dinky office area, a lavatory, or a sneaky hiding place to stash wine bottles.
No matter the size of your home or your budget, there are a vast array of tips and tricks to make the most of your space. Get creative and gather family and friends to help transform your mini rooms into storage rich and spacious areas.