Making the Most of Small Spaces at Christmas
It doesn't officially feel like Christmas until your decorations are up. Yet, faced with a smaller space that you're used to can feel quite challenging. After all, you want to optimise the space but without creating an overcrowded or cluttered look – a fine balance. 
Well thankfully, you don't need to adopt a minimalist approach as your space restrictions needn't be an issue this Christmas with our handy ideas to suit even the smallest of areas. 
Mini Christmas Trees Ideas
Whilst you may not be able to go all out on a full-size Christmas tree, with so many alternative options nowadays, it is still possible to have a tree in a small space. 
You could opt from a choice of artificial space saving christmas trees, many of which are tall and thin so fit easily into tight corner spaces. 
You can of course choose from a variety of real Christmas trees for small spaces, these range from bonsai Christmas tree to one which would fit nicely on a side table. 
Christmas Tree Alternatives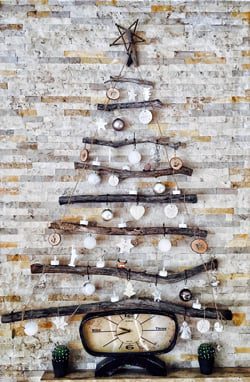 If you'd rather not have a Christmas tree at all, there are many other ways to bring these types of elements into your home. 
A popular and cost-effective choice is to create a natural display with branches, twigs, or other natural materials. You can then hang ornaments from these which can create a striking and stylish look. 
In situations where space is seriously lacking, you can always replace your usual wall art with Christmas themed canvases. 
Have you ever noticed how similar a pine cones looks to a Christmas tree?! Well, for the ultimate miniature Christmas tree, just give some pine cones a lick of green paint and top with a tiny star – you wouldn't know the difference! Use tealight candle holders and some gravel, soil or sand to display them. These look especially great on mantles and dining tables. 
Twinkle Twinkle
The use of fairy lights can have a dramatic impact and opting for festive themed lights really brings that cosy, Christmassy feel to any small space. 
For the most effective look, drape fairy lights around pictures, mirrors or windows and use smaller battery powered lights in clear vases, ornaments, entwined around house plants or featured in festive displays.
Festive Wreaths 
Utilise your walls or interior doors with unique festive wreath designs. These can be purchased or if your feeling creative can be made with very few materials. For the cheapest option head to your local woods and collect pine cones, holly, ivy and branches. Alternatively, baubles make a great eye-catching display.  
You can also hang lightweight wreathes from your windows and ceilings if you'd like to bring more festivity to more central and focal areas of a space. 
Little Touches
Lastly, adding small festive touches to your tables and other surfaces can create be surprisingly effective at helping bring Christmas to small spaces. 
Twitch out some of your usual soft furnishing for festive ones and add baubles, pine cones, festive fruits and spices and any other Christmas items you'd like to ornamental bowls and vases.