How to make your bedroom sleep friendly?
Having the right bedroom door might play a part
We all need our sleep, some more than others. Many factors affect the quality of our sleep, whether it's our health, stresses and worries or even diet.   As stated in Maslow's hierarchy of needs sleep is a basic physiological need, along with food and drink. So we need to get these basics right before we can aspire to move to a higher level and achieve greater fulfilment. Common sense, I know, but we often forget about our basic needs with our busy and varied lifestyles.
Our sleeping environment should be a haven and somewhere we can retreat to at the end of a hard day and relax. Often we neglect our bedrooms – but why? Ok, it isn't usually a room that visitors frequent and we can shut the door on any unsightly mess but when at home it is the room where we spend the majority of our time – so shouldn't we make an effort to improve our sleeping quarters?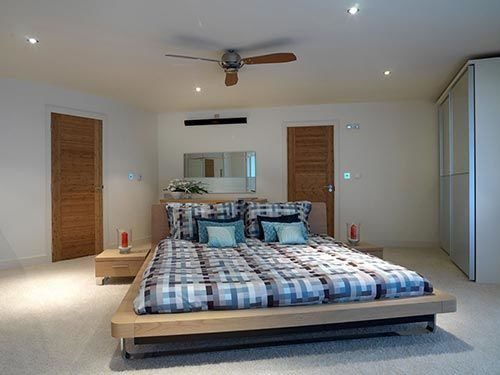 Five ways to make your bedroom the perfect place to sleep
Comfort is essential, so investing in a new bed may be a worthwhile or perhaps something as simple as a new pillow might do the trick. A dust free, tidy environment will also encourage your slumber and nothing beats the feeling of freshly laundered bed linen.
Quietness may not always be possible and sometimes only ear plugs can do the trick but creating a calm, peaceful environment will aid your sleep. Have you looked at your bedroom door recently? Is it fitted correctly without any gaps around the edge? A simple thing such as a well fitted door can reduce sound levels and also the quality of the door construction too. A few years ago, I fitted solid core doors to our upstairs bedrooms and couldn't believe the difference they made.
Temperature levels vary depending on the time of year, so you will need to invest in some appropriate seasonal bedding. Every house is different in its capability to retain heat in the winter and keeping us cool in the summer. Housing insulation is a hot topic for the environmentally conscious and energy saving fraternity. So do some research as you might be surprised what is available and you could save some money too! The Energy Saving Trust has a useful Home Energy Check.
Light Levels are often highlighted as a contributory factor to our sleep quality and it is commonly advised that the darker the better. So investing in some black out linings for your curtains will definitely be worthwhile and encourage your sleep to last a little longer.
Electronic gadgets, as much as we love them, are distracting and a hindrance to our sleep. It is advised to turn off your mobile phone and electronic devices at least 1 hour before lights out. Our brains are constantly overloaded with up to date information, so give it a chance to switch off and relax. Most things can wait until the morning.
I admit that a bedroom door which has a quality solid construction and is fitted well, only plays a small part in improving your sleep, but I am a door fanatic so please forgive me. For more tips on helping to improve the quality of your sleep, I would recommend reading the following article in the Guardian.
by Tina Jones