How to Create a Rustic Interior
Rustic interior design brings a warm, comfortable, and casual feel to homes. There are lots of different types of rustic interiors, including Italian, Coastal, Scandi, and Farmhouse. However, there are key elements that crossover all these styles, making them rustic. Whether you want to create a full rustic room, or just want to find some cosy rustic accents, below are the essential features of rustic interiors.
Incorporate natural materials
One of the key features of rustic interiors is natural materials. Wood, stone, and brick will all help to make a room feel more rustic and there are plenty of options for where you can incorporate these materials. From oak cottage doors to real stone floors covered with plush cotton rugs, you can really mix and match your materials for a rustic interior. Textured materials will help to soften the otherwise hard stone and wood, bringing a cosiness and warmth to the room. If you're wanting to combine rustic and coastal, include driftwood and seashells; if you prefer a cottagecore-rustic interior, add fresh flowers and lush green houseplants.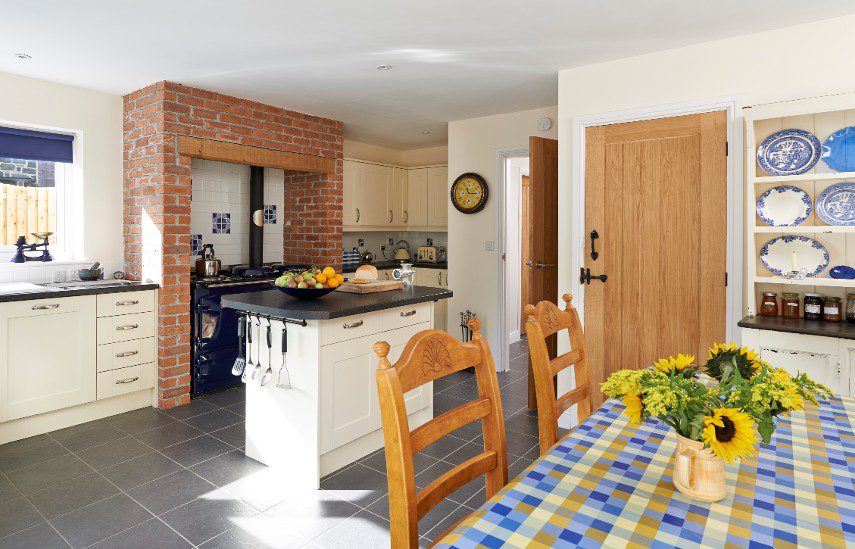 Choose a warm, earthy colour palette
When choosing a colour scheme, aim for warm, earthy shades. But don't think this just has to limit you to brown! White walls can provide a simple but gorgeous canvas to allow your rustic furniture and accessories to stand out, whilst also amplifying the light in a room. You can add muted colours like warm oranges and reds to complement the natural materials. Sage green or a pastel mint green can be used to add some contrast whilst sticking with the nature theme. Whichever tones you pick, try to keep to one palette. This will help to create the cosy, calm environment associated with rustic interiors.
Look for heavy furniture
Large, heavy furniture is another key feature of rustic interiors. Look for big wooden dining tables with thick square legs, deep leather sofas, and heavy wooden blanket boxes that can be used as a coffee table or TV stand.

If your room is on the smaller side, look for smaller versions that won't crowd the room. For example, a smaller two-seater sofa in a rich brown leather will still have the rustic feel without taking up as much space. You might prefer to go for one key piece, rather than overfilling the room with heavy furniture.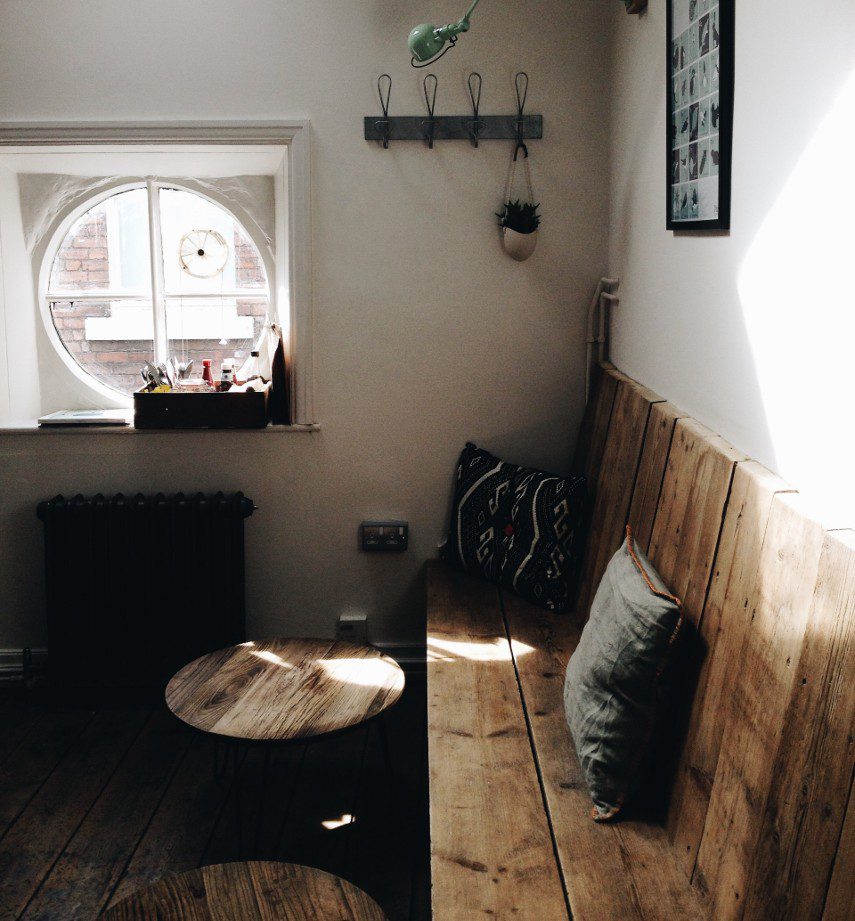 Find handmade and vintage items
The accessories that make a rustic interior are often unique. You could find that perfect piece just by scouring charity shops and markets, or you could take the time to create something yourself. Hand-woven baskets, thick knitted blankets, and hand-made pottery can all add a touch of character to your rustic interiors. Pre-loved, weathered furniture will also add to the rustic ambiance, creating a cosy feel. You could also look to artisans to create that perfect rustic feature from raw materials, such as ironwork light fittings or rough wooden frames for your art.
Add warm finishing touches
An open fireplace is the ultimate rustic interior focal point. If you're lucky enough to have an open fireplace in your home, style it with a chunky wooden mantle, stone tiling, and wrought iron tools. If you don't have an open fire, you can still create the warm, welcoming feel with a few woody-scented, cinnamon-spiced candles. You can also incorporate low, ambient lighting to get that cosy feel of an open fire.
Avoid shiny plastics and metals
Rustic materials should be gritty, rough, and textured, so, you'll want to avoid shiny plastics and metals as much as possible. A rustic interior shouldn't look perfect and glossy, so don't shy away from materials that look a little weathered. Industrial-style hardware will suit a rustic interior better. You can combine different roughened textures, with knotty woods and rugged stone softened with woollen blankets and faux fur rugs. If you prefer a clean, minimalist feel, just reduce the different types of textures you incorporate into your rustic room.
JB Kind has a huge range of interior doors in various colours and finishes, to help you create your perfect rustic interior. Contact us to find out more.