How to change the perception of a small room
White internal doors can help make your living space feel bigger!
According to RIBA the average British house has shrunk from 85 m² to 76 m² in 30 years. This means that our newly built houses are the smallest in Western Europe! This seems strange when you consider that the average height of European men has been steadily increasing and is now 5' 10". We're getting bigger, whilst our houses are getting smaller.
We used to have around 5.2 rooms of 16.3m² size, but now we have only 4.8 rooms and these are smaller at 15.8m² per room.
How does UK living space compare with our European neighbours?
It's a bit of shock to learn that we have become the 'poor' man of Europe in terms of living space. We have an average of 76m², whilst Ireland is much better off with 87.7m². The Netherlands has a massive 115.5m² with Denmark leading the way with a whopping 137m².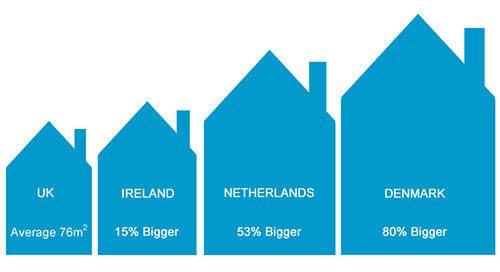 The Daily Mail headlines read; "Battery Hen Britain" The BBC calls it; "Shoebox Homes Become the UK Norm". Indeed the average size of a one bed new-build is now the same size as a Tube carriage! It would appear that the main reason for this disparity is economic. The UK is no more densely populated than Denmark but it's cheaper to build smaller homes and you can squeeze more of them into a space that might once have held only one home, thereby making more profit.
What can you do if you live in a small space?
I guess the first thing to consider is whether it's economically possible to move to a larger house? Barring a lottery win, this isn't an option for many people. Whilst the economy may be recovering, wages have not kept pace with inflation for some years now, making upscaling the mortgage a pipe dream for many. If you can afford to move, then an older house may well have more space. If not, then you need to get creative.
One option is to de-clutter your living space. We all seem to collect so much 'stuff' nowadays, filling our homes with the latest gadgets or must-have desirable gizmo! It's such a relief sometimes to have a clear-out and get rid of all the stuff you don't need or use.
If you've decided that moving is out of the question and you've de-cluttered your house to the bare bones, then it's time to think about using some design techniques to make the space you live in appear bigger! If you can't grow it, make it look more spacious! Perception is reality.
Optical illusions and the use of colour
We've all seen celebrities wearing 'illusion dresses" – these generally have a black side panel which makes the wearer look much thinner than they are! We can do something similar with our rooms and living spaces. Take a look at the image below. The 4 small grey squares in the centre of each box are not only the same size, but the same colour! The grey square in the white box looks darker than the others and the surrounding white square looks bigger too.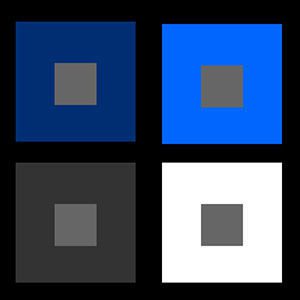 It's generally accepted that to make a room look smaller you should paint it in a dark colour, and use a light colour to make it look bigger. But this is true not just of your walls. Don't forget the doors too. Why not choose light walls with white doors to give a light and airy feel. After all white is the most reflective colour helping to spread light around your space.
We may all have to live in smaller spaces but that doesn't necessarily mean that those spaces have to feel cramped and dark. With the clever use of light colours and white interior doors we can achieve an open feeling of space which can't fail to lift the spirits.