Doors with a difference: How to Give Your Home the Wow Factor with Retro Style Interior Doors
Whether your favourite decade is the 1980s, 70s, 60s or you prefer to hark back to shaker styles or a classic English cottage – the passion for retro shows no sign of abating.
Picking doors for your home is such a personal decision: some people like smooth, classic lines which will blend beautifully with any interior. But others love the style oomph that a great retro style door can give your interior space. We're talking doors with some serious design flair that will impress any visitor and really lift whatever room they are in.
Here at JB Kind we have doors to suit all tastes, budgets and spaces – here is our pick of some different types of retro doors plus some tips as to where these fabulous designs will look their best.
Aurora Glazed
Did you know that Aurora is so named after the Roman goddess of the sun? Just take a look at this lovely design and it's easy to see where the inspiration comes from: those rays make you smile just to look at them.
The stunning Aurora Glazed looks fabulous in this hallway setting where both the height of the ceiling and the proximity to the light mean the sunrise design is allowed to take centre stage. The Aurora looks brilliant on its own or when hung as a pair. To maximise the effect, we think it looks its best in settings where light can be allowed to flood through the space and where there is plenty of height around the door, giving the illusion those lovely sun rays are stretching up into the sky. This is not a design for a dark and dingy corner!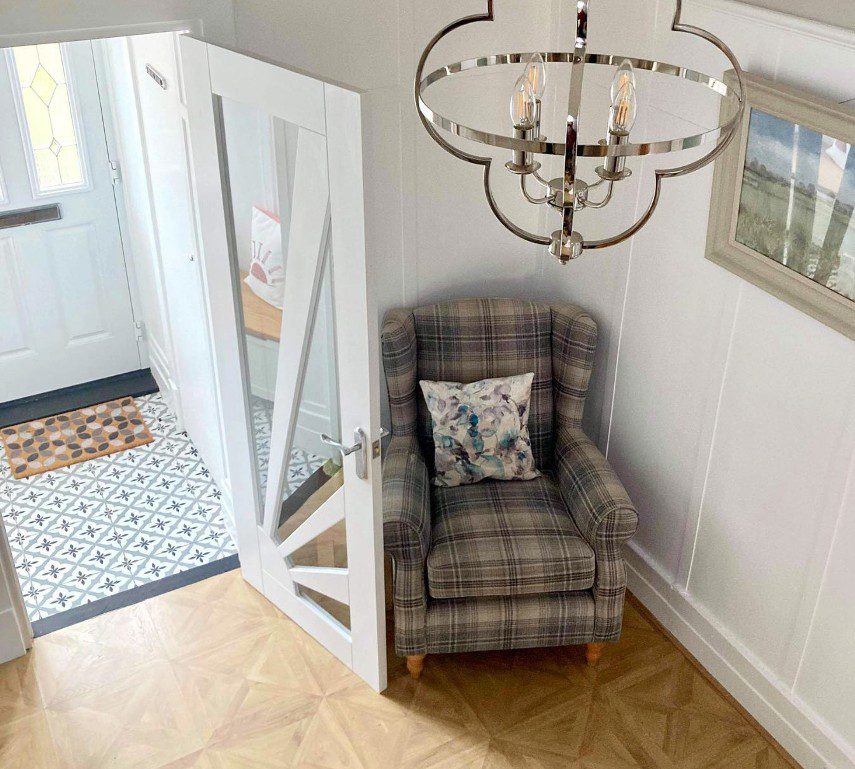 City Black
One of the art deco inspired designs in our Urban Industrial range, the City Black is just a stunner. Not everyone has the confidence to use black doors in their home but for those who get it right, they offer real wow-factor.
Our City Black internal doors look best in simple, uncluttered spaces with plenty of space. They are brilliantly striking in this image when set against elegant white walls, but they also work well next to exposed brick, or a lovely dark grey or sage. It's important to consider flooring when choosing the City Black door – this lovely herringbone style looks great. Carpets with any kind of fussy design would perhaps work less well.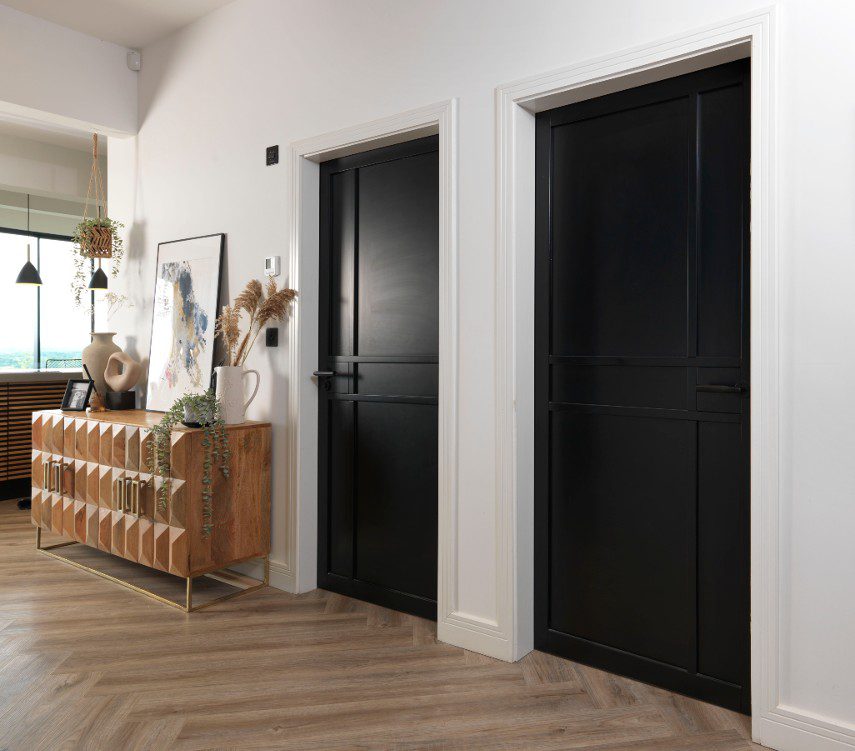 Quartz
This Quartz style with its tumbling geometric hexagons is just a joy to behold. As with the Aurora Glazed, it looks brilliant in spaces where there is plenty of light, and works particularly well in this setting when used as a pair to divide an interior space. With an intricate design such as this one, we think plain painted walls look best rather than a patterned wallpaper. High ceilings and nice airy spaces set this look off to perfection.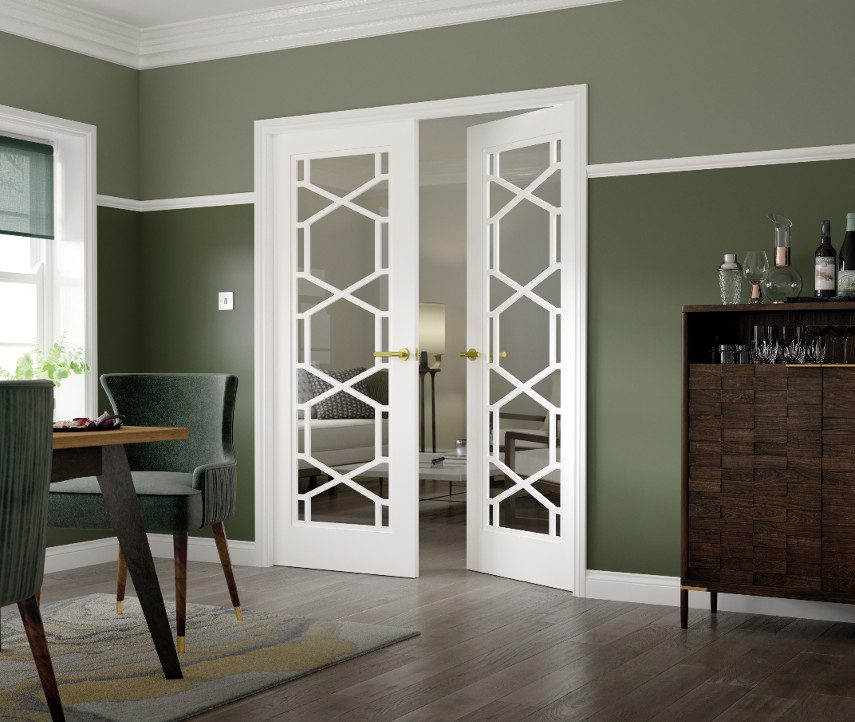 Rustic DX
Cute cottage styles simply never date, and our Rustic DX demonstrates why. Natural wood always looks effortlessly lovely and it's a must for people who like simplicity in their interior spaces. Unlike other doors championed in this blog, this 1930's inspired style works brilliantly in rooms with low ceilings and is also perfectly happy in dark corners, creating a cosy feel that makes you just want to curl up with a book and a glass of wine in front of a roaring fire.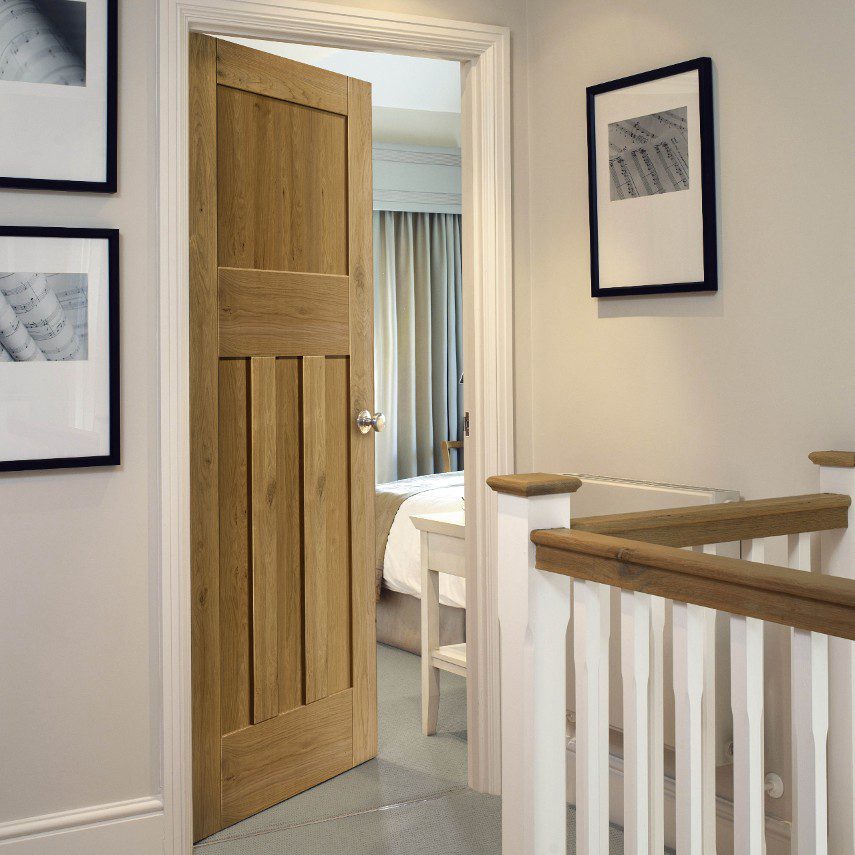 We hope that these images give you some style inspiration helping you to make some great design choices with your interior doors. Don't forget, our Door Visualiser tool should really help you nail down your options so you can see what looks good in a range of different spaces.