Planning a self-build? Here's a guide to choosing the perfect internal doors
When you're looking to choose doors for your self-build, you might not realise that there's so much variety and so many decisions that you need to make.  With so many things to do and organise whilst building your own home, the decision on which doors to purchase can often be left in the 'lets deal with it later' pile.  Planning ahead will ensure that you choose the perfect doors for your home and here are some tips on the key things to consider: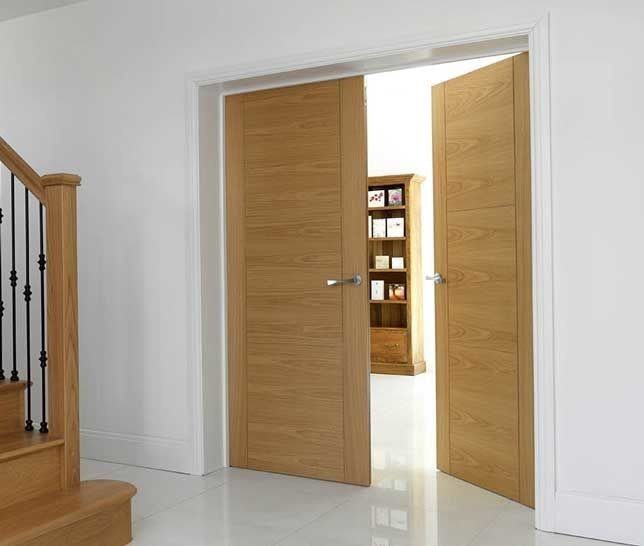 Identify your preferred interior door style
Everyone has a sense of style – the trick is determining what it is.  Do you prefer classic or contemporary, or perhaps a mix of both? Whatever it is, consider your style inspiration to help find the perfect door design for your property.
There's no doubt that naturals are in this season and this makes wood veneers popular, with choices ranging from traditional cottage-style oak to innovative rich walnut and gorgeous grey painted finishes. If you'd rather co-ordinate completely with your colour scheme then you could buy a door that's unfinished and ready for a top coat. You're then free to paint your doors whatever colour you like!
Try using our Door Finder which helps you narrow down your door search by finish and style.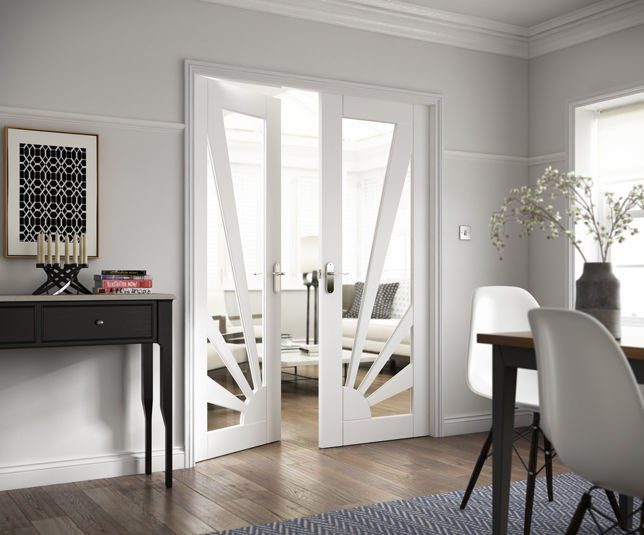 Introduce light to your home with glazed internal doors
There are plenty of door designs to choose from and there will always be one to suit your style. The first step is to decide how many solid and interior doors with glass you need. For example, ask yourself, which of the rooms need more natural light and are there any rooms where you'll want to see what's going on in the other room?
Virtually all of our solid door designs offer a matching glazed partner and for many of our ranges there is also the option to order a bespoke glazed door design to suit your requirements.  Clear glass is currently a favourite and for that extra touch of style you can add diamond cut grooves, see our Rustic Oak Glazed.
For that extra wow factor, why not fit a glazed internal door pair!  The extra light and ability to create an open plan effect whilst still being able to segregate your rooms, can be a winning formula.
Pocket door systems are the perfect space saving solution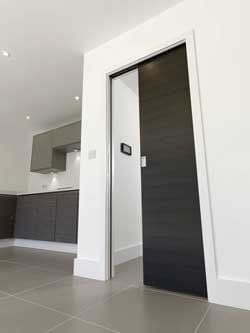 When you're building your own home, you have the perfect opportunity to incorporate a pocket door system.  This is purely because you are building from scratch and can fit the system within your stud walls, as your build progresses.
Traditional doors that swing open mean that just the process of opening a door will take up part of your room and prevent you making the best use of your space, so creating a few extra feet by fitting a pocket door, is no bad thing.   Saving space is the obvious benefit as the door will slide into the cavity of your wall and disappear altogether.  Pocket doors are also seen as incredibly stylish too and are often specified when saving space isn't even an issue.
JB Kind's pocket door system is sold preassembled,  a god send for the fitter as it is easy to install, unlike the majority of kits on the market which take a considerable amount of time to assemble.

Bespoke doors for your self-build
Perhaps you've found your perfect door design but need  a non standard size that isn't readily available or maybe you would prefer the door it a different veneer or finish.  You'll be pleased to know that in many cases a bespoke door solution can be ordered to fit your requirements at a reasonable cost.
If you need a bespoke door solution, make sure that you plan in advance to allow time for the doors to be manufactured.  JB Kind offer a flexible bespoke options service and are experienced at helping self builders source their perfect doors.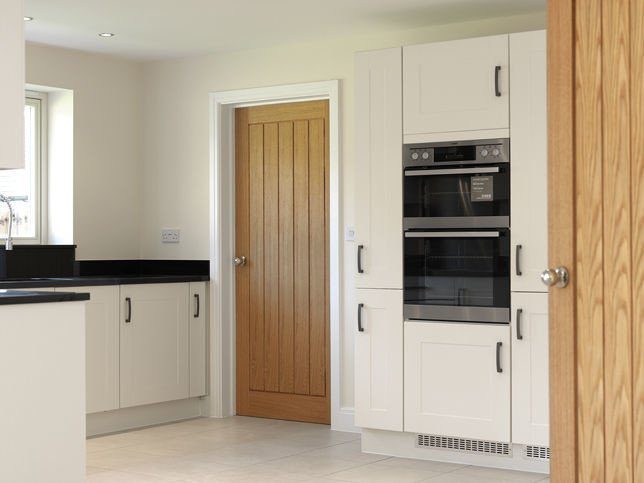 Check whether your self-build needs fire doors
Your architect will inform you if and where you are required to install fire doors in your self-build. Fire doors come in all designs and sizes and do include attractive glazed options – most of the time you'll be able to buy the exact design that you want. Even if you aren't required to fit fire doors, you may want to consider installing them to give you peace of mind that your family will be safe.
Understanding fire doors can be complex subject, our key facts about fire doors helps answer some of the most commonly asked questions.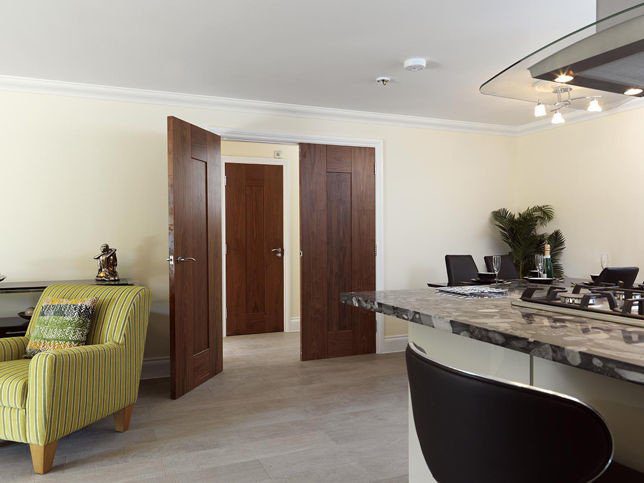 Plan your budget and timing schedule
Many of us are going to have a budget in mind, but what's more important to most of us is value for money. Don't be tempted by the cheapest doors, the chances of them lasting a long time are pretty slim. Instead look for quality at the best price. There are many doors out there that are simple, cost effective designs that will be a good fit with multiple interior design themes, so why not consider better value doors. They'll be worth it in the long run.
When you buy doors, you'll also need to budget for door furniture, like hinges, latches and handles. Lots of people don't realise that their doors come without these essential parts – unless, of course, you are ordering a door set which comes complete with all the door furniture you need.
Don't leave it until the last minute to think about your doors, make them part of the planning stages of your self build. It's even more important if you think you'll need some bespoke doors as these are likely to need to be ordered earlier as they take extra time to craft – you'd be surprised the distinctive difference a door can make!