5 Easy Ways to Decorate Your Home for Easter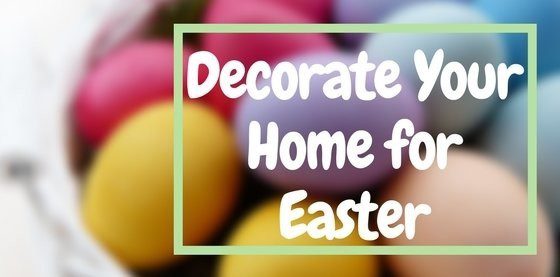 With the Easter bunny not far around the corner, it is time to hop to it and get your home decorated!  Much to the delight of children nationwide, the bona fide chocolate season is upon us and washing the home with primary colours is a must. Stumped for ideas? Luckily we have found five easy ways to make your home Easter ready. 
Giant Easter Eggs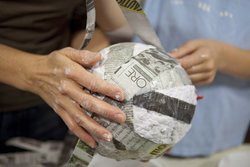 For the parents who have wipe-clean floors and the patience of a saint, creating papier-mache eggs can be a great experience for kids. The chance to slop strips of sticky newspaper onto a balloon is a thrill if you are 10 or under. Once the balloon is coated in newspaper strips and paste (one part flour to two parts water and a smidge of PVA glue) they should be left to dry. This can take up to 3 days.
Once dry, coat each egg in white paint so that your little ones can go to town with coloured paints. Supply them with glitter, feathers and stickers so that they can customise their giant eggs and your kitchen floor! You can then hang or place them around the home for the Easter period.
Floral Flourishes 
If you fancy tackling Easter in a subtle manner, why not pop down to your local florist? Vases dotted around the home sprouting with fresh tulips and daffodils is a sure sign that spring is here, and Easter is on the way. Alternatively, if you'd prefer a display with more longevity, homeware stores country wide often have a fantastic range of affordable fake flowers that look just as good as the real thing! 
Easter Wreaths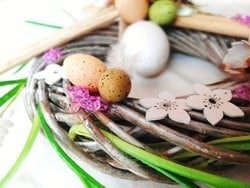 Just like the holly and berry alpine numbers we have adorning our doors in December, Easter is now a member of the wreath brigade. No front door is safe during any season or celebration from an onslaught of foliage, but the Easter offerings can be particularly charming. 
Amazon and other online marketplaces have a selection of plain wreaths that you can purchase and make your own. Fake flowers, feathers, mock eggs and other Easter adornments can be attached to most wreaths using a hot glue gun or superglue. If you're doing this with your little ones we think it's safest you do the sticking…
Bunny Bunting
If you spent hours making pompoms with your Granny as a child, this easy Easter DIY is definitely one to pass onto your children. To make your bunny tail pompoms simply take two circles of card and place a hole in the middle, around the size of a 10p. Get some wool of your desired colour and begin passing the wool through the hole in the centre of the card, round the outer edge, and back through the middle. You should end up with a woolly doughnut! Carefully snip the edge of the wool around the outside of your doughnut, making sure to keep the two circles of card close. Next, use a length of wool to slide between the two discs of card and tie in a very tight knot. You can then release the two card circles and shake your pompom into shape.
You can now attach the pompom tails to some bunny-shaped card cut-outs. Simply fix your completed Easter bunnies to a length of ribbon and hang in your home. 
Simple Centrepieces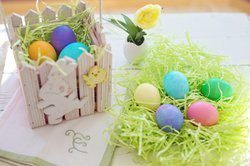 If you're sitting down to a delicious roast this Easter Sunday, why not create an Easter centrepiece for the table? Whether you want to get the children involved for an undoubtedly unique offering or fancy going solo for a more tasteful look, pop down to your arts and crafts store and utilise bits and pieces from around the home, such as jam jars.
If you have the patience you could hollow some eggs! Pierce a hole in each end of a regular egg and blow out the insides. You can then delicately paint these egg shells, or leave them natural, and use them as part of your centrepiece without a potential yolky mess.