Door Upcycling Ideas for a Wet Weekend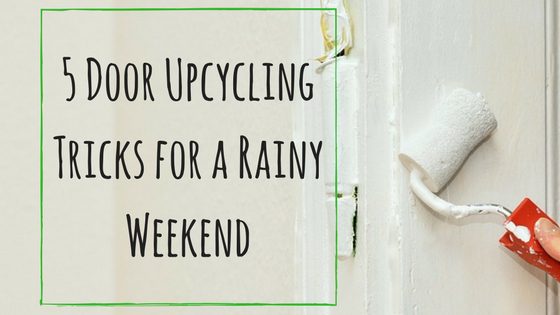 With spring in full bloom, you have undoubtedly experienced your fair share of showers recently. However, with summer just around the corner, utilising the few remaining drizzly weekends with a spot of DIY will save you from missing out on any sunshine. Dig out the old door from the garage, bop to a car boot sale, and spend your day in the dry creating something fantastic for your home. 
Old Door to Headboard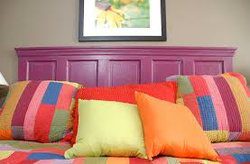 Get a peaceful night's sleep knowing that you put an old door to good use.
Depending on the size of your bed, trim your door to size and get creative with paints, wire wool, varnishes and waxes to give your door headboard the look you want. Simply fix it where you want your bed to go (make sure to use a spirit level)! 
Old Door to Bookcase 
For those who like to get their nose in a book, transforming your old door into a bookcase is a novel idea. Although this is likely to take a large chunk of your rainy weekend, the results can transform a room and save you money. You will need an extra door or some spare wood to create the shelves, but other than that your will just require a trusty toolkit and a saw. 
Old Door to Chalkboard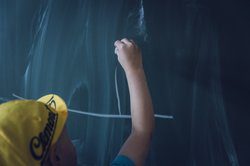 Before chucking out your old wooden doors, give them a new lease of life. Wooden doors with bevelled sections are the perfect canvas for a lick of chalkboard paint.
Simply trim the door down to size, paint the inner panel and prop it up on the kitchen counter for a quick and easy family notice board. 
Old Door to Breakfast Bar
If you fancy a quiet area of your kitchen to enjoy your brekkie with the paper, grab the old door out the garage and a couple of brackets. Wooden doors are the best for this task and can be painted or varnished to give a look which your desire. Get a family member or friend to help you get everything level and attached securely and, voila, a quick and easy breakfast bar. Just make sure you measure against your stools first!
Old Door to Garden Gate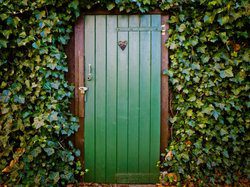 Give your garden a unique look by installing old doors as garden gates. Whether down the side of your property or to section off different areas of your back garden, old doors can give a real wow factor. Pairs of doors can be particularly effective.
If you don't have any old doors to hand, make sure to check out Freecycle.org or crawl the local car boot sales for a bargain!