2019 Door Trends – a handy guide
Earlier this year, our blog The top ten on-trend doors for 2019 predicted which door designs would fly off our shelves and so far we've been pretty much spot on.  But when planning a new build project or home renovation, it's also helpful to be aware of general trends that can influence other interior design elements earlier in the process. Of course, we all have our own style, but having an image in your mind of the desired aesthetic will help when trying to achieve an overall 'look'.
Shades of grey … so cool it's hot

Grey continues to be highly popular in interiors. Unlike many other colours, there is a shade of grey to suit every environment – when used dark it oozes contemporary class, when used pale it reflects the light beautifully, while achieving a subtle more 'muted' look than white.
In terms of design, we have highlighted some of our grey 'superstars', Alabama dark grey internal door before, or you may love our light grey internal door, Tigris. One thing's for sure: if you go for grey, you'll be chiming in perfectly with contemporary 2019 trends.
Updating a classic
While many still like the look and feel of a traditional style of door – for example, there is mass appeal for our Thames oak cottage door with vertical panelling in a frame – we are seeing more people choose to update classic styles with a modern twist in colour finish.
We predict that classic door designs with a contemporary laminate finish or pre-painted in an on-trend colour, will continue to rise in 2019 as home owners get ever more interiors-savvy.
Same door, different finish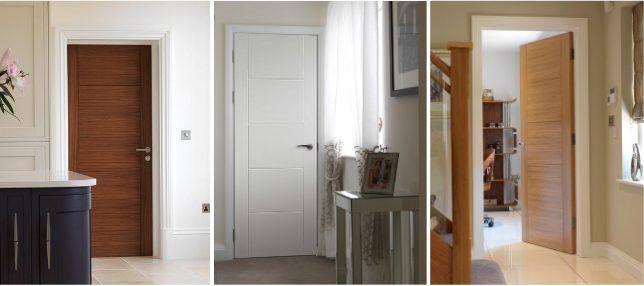 One thing that we have noticed is the tendency for people to choose one door design they like for their whole home, but have it in different finishes for different floors. Many people will opt for one style but have it in a clean white for the upstairs, while they may prefer natural wood such as oak or walnut for the living space. Our Tigris doors are the perfect example.
They are also choosing a glazed version to match their chosen design to bring more light into their chosen area.
Let's make it a shaker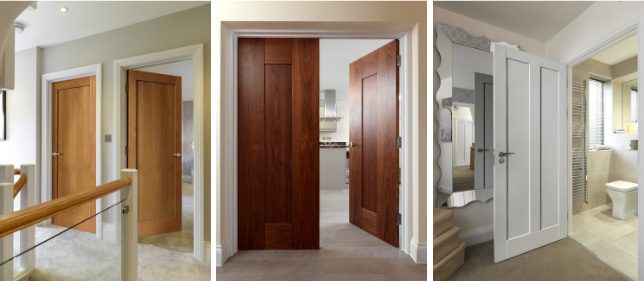 If you are considering shaker style doors for your home, you're on to a safe bet trend-wise as many people are still loving this classic American-style look.
Bearing in mind the point made above, why not opt for the design you love but have it in different finishes throughout the home: oak, white or walnut?
Laminates – the best of all worlds
For many people, laminate doors are the ideal solution: they are durable, stylish, offer a consistent finish and achieve the natural appeal of wood with a greater choice of colours and they are also easy to maintain and cost effective too! Laminates are definitely a hot trend for 2019 and beyond!
When facing the choice of which of our many designs to choose from, we hope this helps guide you through the myriad options!