What are the hottest interior door trends for 2016
Designer doors have become increasingly popular over the last decade with the range of options available to homeowners wider than ever before. Here at JB Kind, with our more than 30 years of experience, we have some top tips on the most popular door trends to expect this year. So if you're on the lookout to update your doors and find out what's hot and what's not, then here's some guidance on where to start your home or build project's makeover.
Trendy textured internal doors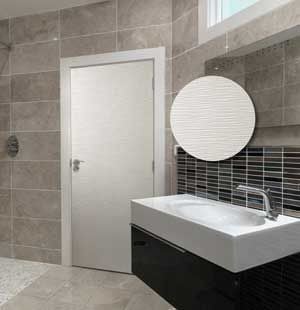 The trend for textures, whether it's fabric or wallpapers, has now spread to the world of doors! And to reflect this significant step we've introduced our Ripple door designs.
New for 2016, and designed just for us, JB Kind's Ripple doors have teamed up with the texture trend and are offering an exciting new dimension in door design. The two door designs have a textured finish (a 'rippled' effect) and are perfect for painting so that you can individualise your colours to each interior design theme. Including a striking glazed option, these trendy textured designs enable you to treat yourself, and your guests, to an innovative home interior.
Want to know more about tapping into the texture trend? Watch out for our blog on textures in interior design that'll be published later in February!
Wonderful walnut doors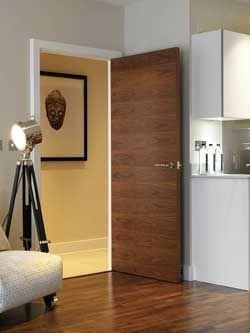 Real wood veneers are the most popular finishes for doors in the UK – and we should know, we sell around ¼ million doors every year! However, the type of wood veneers that design dictates do change periodically.
In 2016 you'll see wonderful walnut making a real impact with its luxurious feel and sleek and stylish presence. The deep colour of walnut adds warmth to any room and, if you take a look at our internal walnut doors range, you'll also find a collection of grooved and glazed designs that will set your walnut veneered doors apart from the mainstream market offerings. You can also consider a range of bespoke options too, if you want to make your wonderful walnut doors deliciously different from high street alternatives.
Consistently popular oak internal doors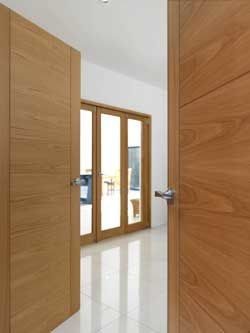 Another winning wood is the consistently popular oak veneer, and at JB Kind you're spoilt for design choice with this wood. You'll find our River Oak Modern, Cottage and Traditional ranges offer this classic finish in a variety of different styles to suit any home, with River Oak Cottage offering the new Cherwell solid and glazed designs in 2016.
Our Montana range is also likely to be particularly popular this year as the 2016 trend for simple, shaker style doors, combined with clear glazing are the perfect match for classic contemporary interiors. These oak veneered doors can also be varnished – so you have the flexibility to tone the finish to complement your staircase, kitchen or furniture.
Painted doors: Light and dark grey internal doors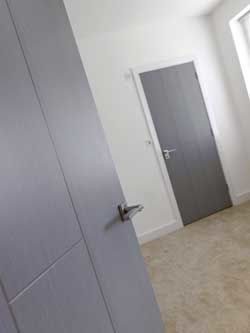 Every year you'll notice that there are a range of colours that are billed as the best for that year, and 2016 is no different. This year's palate is predominantly strong, matt earthy colours from light and dark greys to natural browns.
Painted doors are becoming increasingly popular and they can be purchased in two ways: Pre-finished, which means they come perfectly painted, or unfinished which means that you can chose the colour yourself and create the perfect match for each of your rooms – an excellent option if you are self-building or renovating and you have a specific interiors vision in mind, or if you are creative with colour and are a dab hand at DIY.
For those of you that can't quite bring yourself to swop from wood veneer to painted doors, then take a moment to read about our Eco Colours and Nuance ranges which wrap up most of this year's colour kings, offering some seriously great designs – all of which are painted but that look exactly like flawless wood veneers. These ranges are also exclusive to JB Kind, which means you won't find these designs anywhere else, enabling you to be individual as well as having cutting edge colour and design.
Get the 'WOW!' factor with white internal doors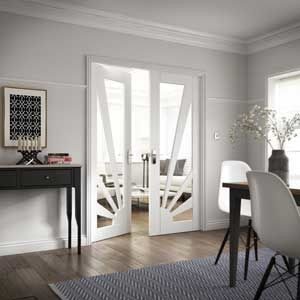 Creating the 'Wow' factor with white is a striking standalone trend amidst this year's more seasonal sultry colours and, for most of us, purchasing white primed doors is the perfect way to match our creativity with practicality, and affordability with design style and, at JB Kind, we've got plenty of on-trend white door designs available.
For example, for those of you that love the Limelight, we have our range of contemporary door designs that are coated with excellent white primer and are ready for a top coat finish. The stylish, grooved designs and urban chic doors sit alongside plain and simple designs in this range, however, all are easily painted to suit this year's creative colours – or your own distinctive colour scheme.
For those of you that are keen on keeping your whites, bright, then the sunshine literally shines through in our Calypso range – the Aurora door is known as the 'sunshine' door! This retro style, white primed, ready for a top coat door is perfect for painting  and is complemented by the rest of the range's stylish shaker panel doors.
Pocket sliding doors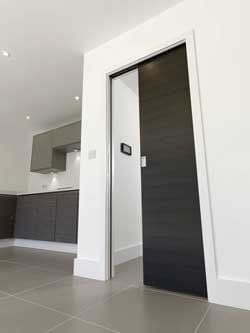 Some people call them pocket doors and others call them sliding doors – these are the doors that slide right into your wall cavity instead of opening from your door frame out into your room.
The trend, and often need, to create more space which has surged in popularity over recent years is set to stay and because pocket doors slide into your wall cavities, it means that the adjoining rooms literally have more space; and more space is more appealing to pretty much everyone whether it's homeowners or property developers.
What's worth a mention here is that at JB Kind we're big believers in a broad range of door designs, and we don't feel that just because you want sliding or pocket doors, that the number of doors available to you should be limited. This means that you can pick pretty much any of our door designs and fit them into a pocket door system.