External Extreme
Our pioneering white External Extreme door range is the most exciting new development in exterior door design for decades! This fully finished range is available in a selection of popular styles and is perfect for painting over to fit individual colour schemes,
Durable external doors manufactured with MEDITE®TRICOYA®EXTREME

Constructed with an exceptionally durable and dimensionally stable top layer of MEDITE® TRICOYA® EXTREME ensures the doors can withstand all weathers – and to illustrate just how confident we are, we issue every External Extreme door with a 10 year guarantee!
Traditionally used for cladding and facias, MEDITE® TRICOYA® EXTREME's hard-wearing and weather-resistant properties are perfect for use within the structure of an external door. Giving homeowners the confidence that the External Extreme door range will be a long lasting, reliable external door option. See their case study on our External Extreme range.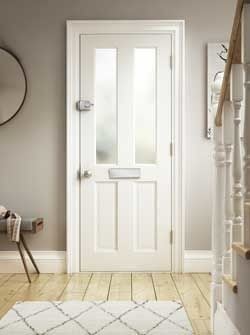 The glazing used within the External Extreme range also matches the quality and durability of MEDITE® TRICOYA® EXTREME, as all the doors have Pilkington™ double glazed units. Thermally efficient, many of the doors within the External Extreme range are Part 'L' compliant, as well as FSC® accredited.

Easily fitted in a day by a competent joiner into an existing or new wooden door frame, the doors are issued factory finished and ready to use. There is no requirement to paint or varnish the face of the doors but it is imperative that any planed edges are resealed immediately. Ensuring that the fitting guidelines issued with the doors are followed will make certain the doors perform exceptionally.

Click for details of the 10 year guarantee and fitting instructions.
Perfect for Painting
External Extreme doors are supplied factory finished in a white exterior paint, so you do not have the added stress to make sure your door has been sealed and painted, apart from any edges that have been exposed during fitting. Front door colours are very much a personal choice and External Extreme doors can be easily over-painted once insitu.
---
Certifications & Memberships