Quick DIY Christmas Wreaths for Your Front Door
What better way to bring Christmas joy to your home than with a wreath for your exterior door? Making your own Christmas wreath allows you to create a wreath that perfectly matches your style and tastes, so you can be welcomed home every day with some festive cheer. If you're looking for some inspiration, read on to discover our favourite DIY Christmas wreaths.
Joy wreath
You can make a Christmas wreath more exciting just by adding some lettering. This works best with a smaller, circular twig wreath. You then need a wooden J and Y – you can usually buy wooden letters in craft stores, or if you're feeling particularly creative, you can cut them yourself. It's best to use thinner wood and avoid cardboard, especially if you're fixing it to the outside of your door. It's up to you what colour you paint your letters. If your front door is white, you might like to go for a vibrant Christmas red or green. If your front door is already a vibrant colour, painting the letters white can act be a great contrast. Once you have your J and Y finished, fix them either side of the circular wreath with glue or floral wire so it spells out "joy". For added festivity, fix some holly onto the wreath too.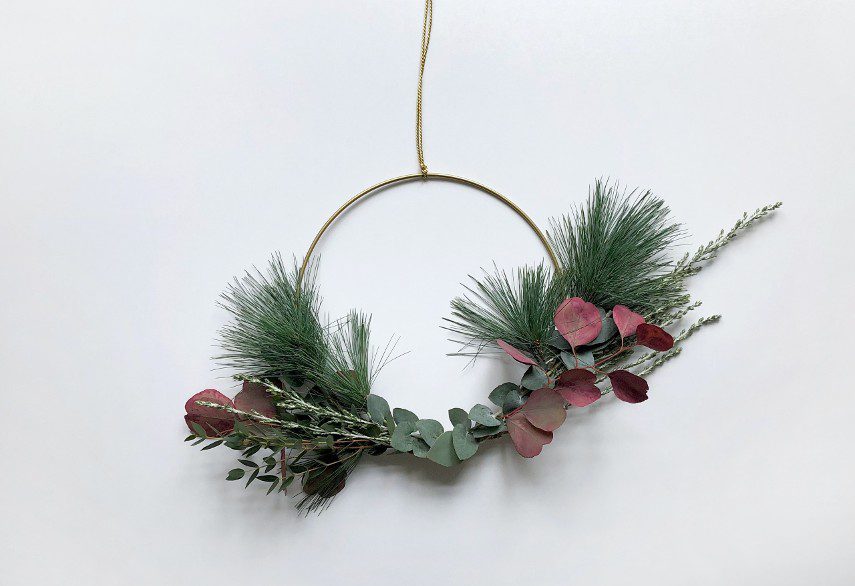 Embroidery hoop wreath
Embroidery hoops can make for gorgeous, simple Christmas wreaths. Of course, if you have the time, you can use an embroidery hoop to embroider a festive scene and fix that to your door. Alternatively, you can just use the hoop itself as the basis for the wreath. Add a bow made of ribbon and a minimalist green spruce for a super chic wreath. If you want to add a little something extra, you can wrap the hoop in fabric or ribbon.
Square twig wreath
Perhaps you're looking for something a little unconventional this Christmas. In which case, you might want to think outside the box and go for a square wreath. It's simple to create a chic square wreath just from a few spray-painted twigs tied together with cord. We recommend spray painting the twigs silver or gold to keep with the modern feel (and make sure to spray the cord you use to tie them together too). You can also use hot glue to fix the twigs together – using a few twigs for each side will help to make it feel more complete. You can then add a few mini baubles to bring it all together.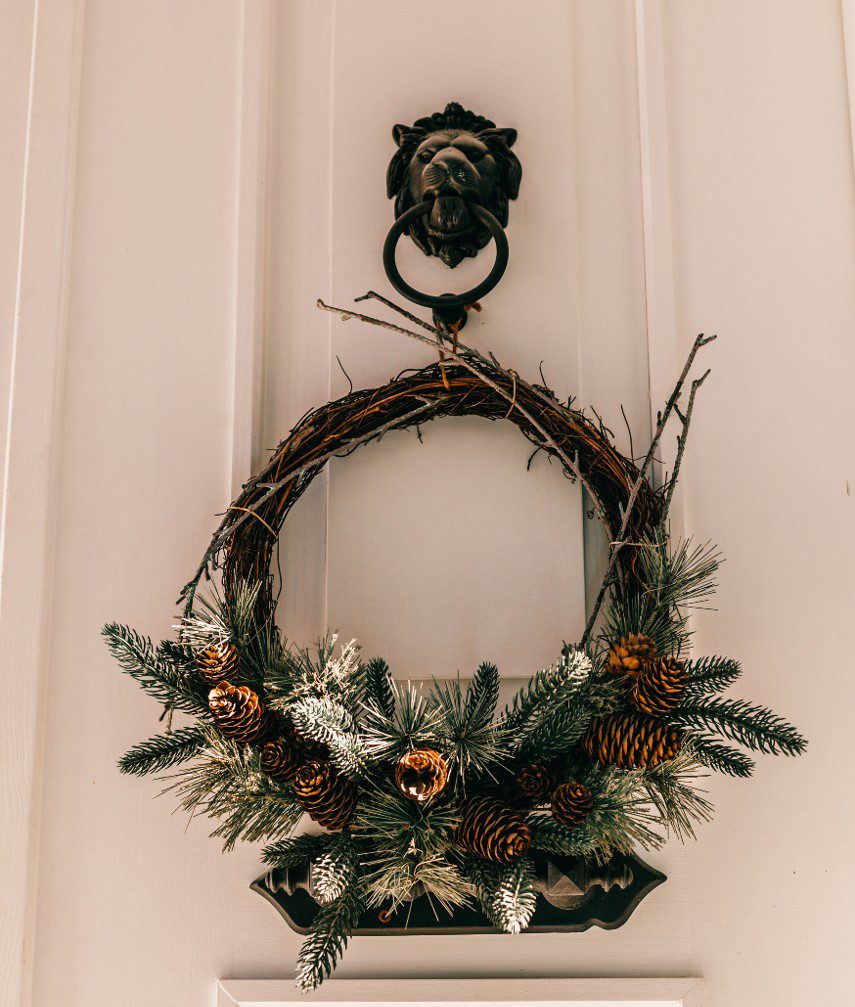 Bauble wreath
A bauble wreath is a unique take on the Christmas wreath. For this, you'll need a wreath frame, extra baubles in various sizes (we recommend picking complementary colours), a hot glue gun and some tinsel. Wrap the frame in the tinsel to start – this will act as your base. You can then start adding your baubles, fixing them to the frame and each other with the hot glue. The great thing about the bauble wreath is that you can really make it match your style. Go for bright and bold colours, or stick with classic Christmas tones, if you prefer.
Cookie cutter wreath
A cookie cutter wreath looks just as great on your front door as it would on your kitchen door. For a cookie cutter wreath, you'll need, unsurprisingly, cookie cutters. We like this wreath with star cookie cutters in various sizes. Lay out your cookie cutters into a circle and then fix them together with hot glue. You can then add extra decorations to make it more festive. You could add red ribbon to each cookie cutter to give the appearance that they're tied together. You could also add a small festive spruce. Then hang onto your door with some extra red ribbon.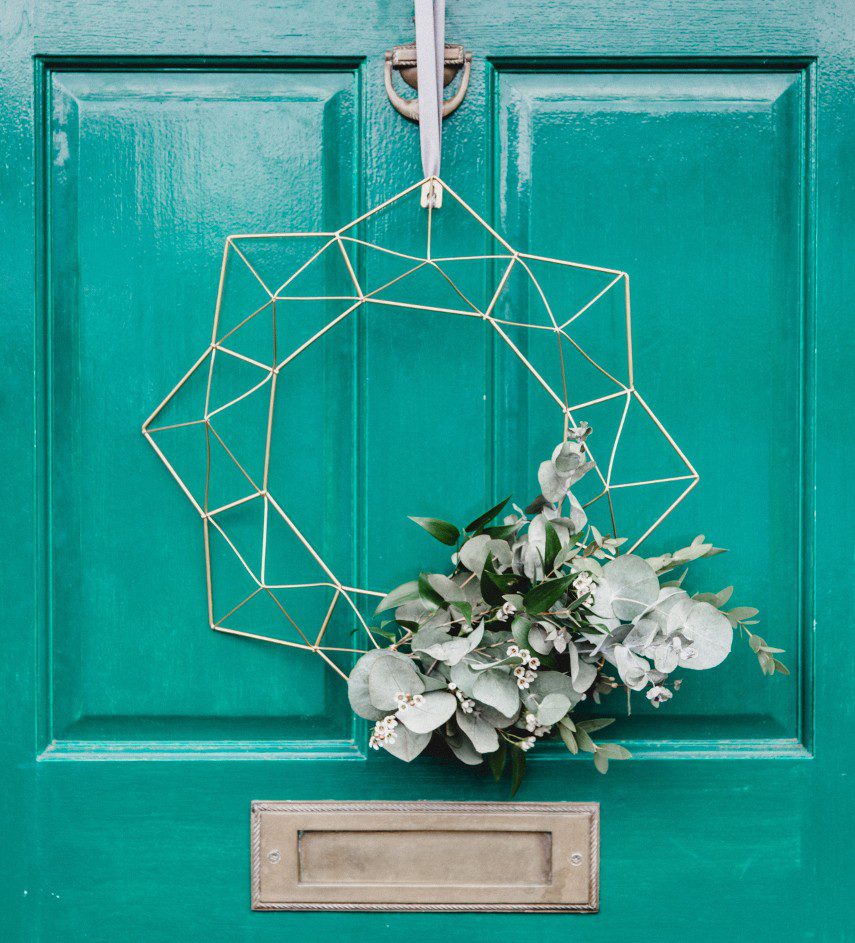 Wire wreath
You can make a simple but effective wreath just using the wire wreath frame. Take the frame and spray-paint it a metallic colour. Then add whatever decorations you want. Wrap some fairy lights around the frame for a cute festive wreath or keep it more minimalist and chic just by adding some greenery with fake or real leaves. Green and gold can be a great colour combination, or you can go for a silver frame with white foliage for a frosty feel.
JB Kind has a range of exterior wooden front doors to complement your Christmas wreath. Contact us to find out more.