How to Make Industrial Style Internal Doors Work in Your Home
With their clean, geometric lines and pared back monochrome aesthetic, the taste for urban industrial doors in interior spaces continues to grow. The trend for this fabulous-looking type of door sprang out of the vogue for rugged interiors with factory-style exposed brickwork and concrete floors, but the truth is that there are a whole range of ways that anyone can make this type of door design work in different types of interior spaces.
But how can you really make your urban industrial door look its optimum in your space? Where will it look its best?
When planning any interior, it's always good to get some great ideas from the myriad of blogs, mood boards and other online inspiration out there. Here's our take on how to make these gorgeous looking doors look simply amazing in your home.
Tune into the 'Japandi' trend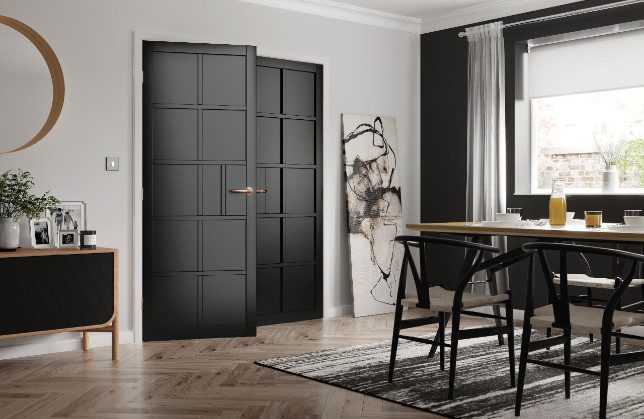 Anyone who has not yet heard of 'Japandi' is surely just about to. This mash-up of the words 'Japanese' and 'Scandi' basically does exactly what it says on the tin.
The Japandi interiors' trend takes the functional de-cluttered calm of Japanese design and fuses it with the organic comfort we associate with the Scandinavian aesthetic. The result? Beautiful, fuss-free spaces that emphasise order, yet cosiness. To get the look, consider carefully what you actually need and want to look at it in your space, and get rid of everything else. Mix natural colours and woods with the simplest lines of furniture and you'll get a true Japandi feel in your home.
The great news is that urban industrial doors work perfectly with Japandi-style interiors. That's because they focus on elegance, simplicity and function rather than fussy detail. The Plaza Black, for example, looks simply fabulous against a stunning herringbone floor, simple monochrome rug and plain black and wood furniture, to emphasise those wonderful clean squares in the design of the door itself. It's all about clearing away the non-essential details to allow our most stunning furniture to shine on its own merits. This type of interior, with its monochrome styling, is the perfect fit for urban industrial doors.
Let the line shine through with a glazed door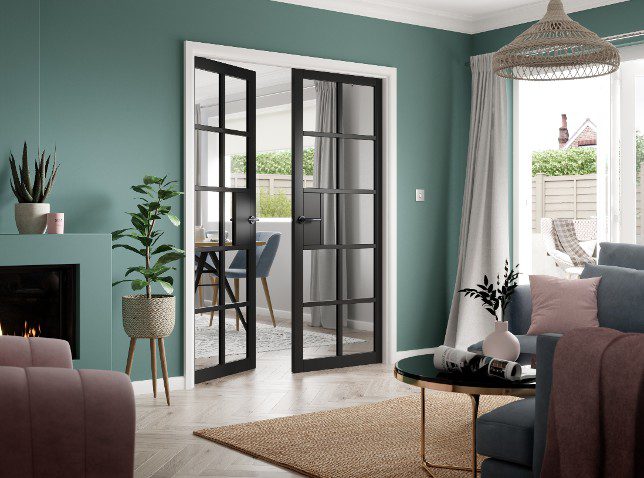 Increasingly, we are seeing people wanting to let light shine through their home as much as possible and a great way of doing that is to hang a glazed door in an internal space. The urban industrial door design works perfectly in its glazed style. Those clear panes of glass really emphasise the fabulous designs, and allow the light of the day to pour into the space.
The glazed versions of our urban industrial doors are also a perfect option for people who might prefer a softer design that can work in a range of spaces, such as kitchens. The glazed urban industrial designs are great for those who love the look but perhaps would prefer not to make such a bold statement.
Working well with any era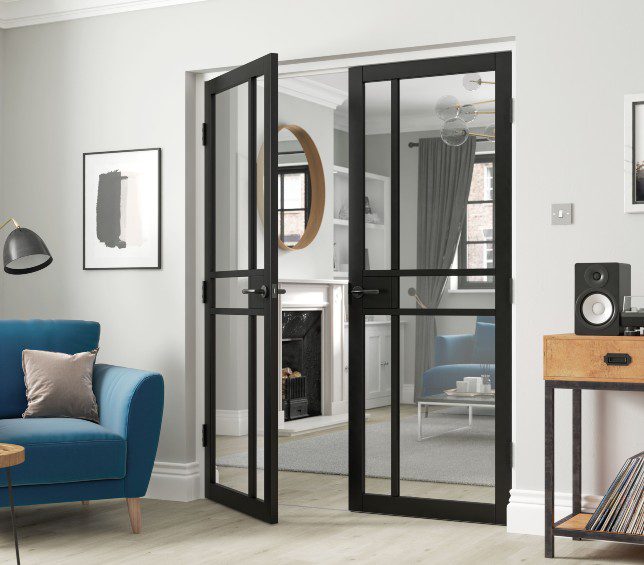 It's not true to say that urban industrial doors are great only for factory-style interiors. The truth is, they work well in many different types of space. Don't be afraid to mix it up and try urban industrial if you live in a period Georgian property, for example, or a new build.
Contemporary homes tend to be designed to maximise the light and celebrate clean lines so our urban industrial doors will fit perfectly into any new build house. Don't feel they are just for living spaces either, try them on bathrooms and smaller areas such as snugs too, and don't forget to experiment with glazed and non-glazed.
Older character properties will also fit an urban industrial door beautifully. Many older homes may have been adapted to create a large living area with two former living spaces such as dining and sitting rooms knocked into one, for example. If this is the case in your interior, a pair of our civic black doors, for example, hung in their glazed versions, will break up a larger space into two, making an elegant style statement while keeping things nice and light. Using double doors like this also gives you the option of keeping them open for a larger space, and closing them when you want things to feel more intimate.