What are the main considerations when choosing external doors?
Choosing a new front door for your property is a big decision. Whether you're selling up or staying put, a front door is very important aesthetically to your home, but also for security and warmth too. There are three main considerations when picking the perfect external front door: appearanceperformance – in terms of home security, keeping in the heat, weather resistance and ease of maintenance – and budget. Although the last point is important and there are options to fit all pockets, do remember how much a high-performing door will save on heating bills and maintenance if you choose a quality, robust product. 
What material to choose for your front door?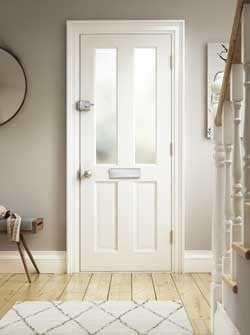 The main materials that doors come in these days are steel, aluminium, fibre-glass, UPVC, and either entirely wooden or wood-based. 
At JB Kind we specialise in wooden doors that are constructed with the exceptionally durable MEDITE®TRICOYA®EXTREME® and new for 2017 we are pioneering our External Extreme door range manufactured with this material. Each door really can withstand all weathers and to prove it, each comes with a ten-year guarantee!  Available in a range of styles, External Extreme doors can also be painted to suit different colour schemes. 
When it comes to choosing a material, try to find something that marries well with the character and existing aesthetic of your home. An oak front door is a classic choice that has timeless appeal. The weather can get at a wooden door though, which is where the engineered materials in our External Extreme Doors really can give you the best of both worlds as they will maintain their appearance no matter what storms are hurled at them, while giving you the beautiful solid appearance of wood. See our blog for more on What makes a great front door.
One last point on materials is to give proper thought to choosing sustainable materials, and you can do that by looking for suppliers which can demonstrate a commitment to responsible forestry management and even hold their own Forest Stewardship Council (FSC) certification. 
When is an external door really secure?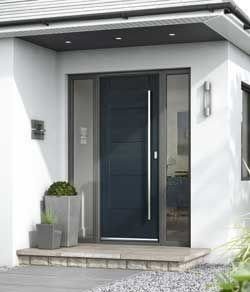 One big reason why it may be time to replace your front door is if it is making unaccountable rattling noises, as this may be a sign of structural deterioration, meaning it is far easier for a burglar to simply kick it down.  For more detail on when to replace your front door, see our blog 5 obvious signs you need to buy a new front door.
When considering new front door options, you'll need to check the robustness and to do that ask the manufacturer how it is constructed as that will give you a good idea as to how well it will stand the test of time.  Our advice would also be to keep glazed areas to a minimum as it is easier to break through glass than a door. 
Also, maximise any security features of the door, such as multi-point locking systems and alarms. A spy hole is well worth considering, and rim latches, metal mortice deadlocks and door chains are all good additions to give you that peace of mind. 
Should I buy an off-the-peg or bespoke external door? 
There's no doubt that a bespoke exterior door has advantages when it comes to the first of our main considerations: appearance. Ordering an individually tailored door means you can create an individual design and colour and it is also a good solution if your door frame is an unusual size, for example, if you live in an older or character property. 
But the downside to the bespoke option is cost – it will almost certainly be more expensive to go down this route. The off-the-peg market is growing all the time and there are lots of styles, colours and prices to choose from, so if you have a conventionally sized door frame and are prepared to have a good browse among what's on offer, this will be a good solution if you've a budget to stick to. 
What about the external door frame? 
If you're preparing to choose a new external front door, you'll need to give consideration to the frame as well as what's going inside it. While many doors are supplied pre-assembled as a door set complete with a frame, some doors can be bought frame-less and are fitted within an existing frame or one can be purpose built around it. 
Your fitter will be able to advise but the important thing to know is that any door frame must be strong enough to hold the door and any fixings. The frame is a vital, functioning part of the door assembly and subsequently effects performance and security
Do I need planning approval for a front door? 
If you live in a listed property, there are rules that apply affecting the type and style of door you use, so you'll need to check those. 
But apart from that, you won't normally need planning consent to fit a new exterior door into an existing opening. If your property is a new build, then the external front door is taken care of under building control regulations. 
How do I get a front door fitted? 
Make sure you hire a professional joiner or carpenter to fit your door. We all love a bit of DIY but this is one job you probably don't want to do yourself!