5 Obvious Signs You Need to Buy a New Front Door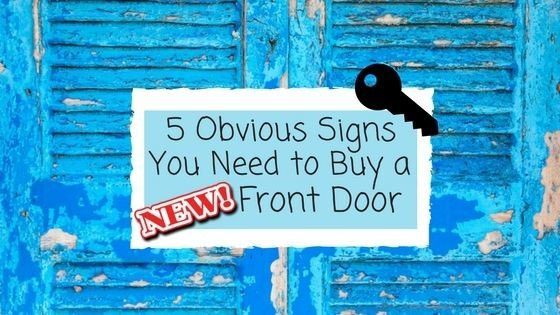 As a nation, we tend to wait until things are beyond repair until we sort them out. Doors are no exception. Despite being a safety feature for our homes, few of us really know when it's time to buy a new external door. Ineffective front doors can not only be a security issue, but can also affect heating costs and attractiveness of your home, which is important to bear in mind if you are thinking of selling. Here are some tips to help you decide if it's time to replace the front door of your home. 
Do You Feel a Chill?
If living in older properties we tend to pass chills off as a 'character feature', but relying on draft stoppers does not have to be a lifetime commitment. Ageing front doors can suffer from faulty seals and other subtle cracks which are to blame for those pesky drafts. Chances are, you pump up the heating to counteract the chill, costing you extra and unnecessary money. By investing in a new and snug-fitting front door you won't be reaching for the thermostat but will be saving on your energy bills.
Door Falling Off Its Hinges?
It all starts with a spray of WD-40 when you hear a squeak, which is inevitably ignored. However, could this be a sign of a more serious issue? Rogue noises from your door can be a sign of loose hinges. This can be a nightmare when it comes to home security as loose hinges mean a door can easily be kicked in. Neither hinges or doors last forever so it can often be the safest option to purchase a new front door.  
Cracked and Peeling Paint?
Are people often commenting on how rustic or vintage your front door looks? If this wasn't the look you were going for, it's most likely a sign that your door hasn't weathered well and may need replacing. The painted finish on a timber front door can fall foul of cracking and peeling, if regular maintenance or a quality paint / varnish is not applied. To save you the hassle and arm ache, you might want to consider replacing it with a weatherproof front door.
---
External Extreme Doors for Ultimate Protection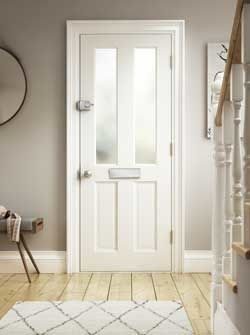 2017 has welcomed a pioneering External Extreme door range from JB Kind. If your door has deteriorated, the new weatherproof door is a fantastic option and comes with a 10-year guarantee.
What makes the External Extreme range so unique is that each door has a stable top layer of MEDITE®TRICOYA®EXTREME; a material usually used for cladding or facias. The special hard-wearing and weather-resistant material gives homeowners peace of mind that their external door will be long lasting and reliable.
 
External Extreme Doors come in seven different designs, allowing you to still have second-to-none functionality and safety, without scrimping on aesthetics.
Click for Information on Our External Extreme Doors
---
Fighting to Open and Close?
Many homeowners notice that, depending on the time of year and humidity, their external wooden doors change size and warp. It can be a huge issue when it comes to opening and shutting the door and can make locking the door difficult if it isn't flush with the frame. This distortion is not just bad news for the door itself, but also for the floor if the door enlarges or sags. If this is a recurrent problem, it is imperative that you replace your front door to save from any damage or security problems. 
Letting the Outside In?
Instead of cranking up the thermostat or curiously mopping up the puddles from the front door when it rains, pay close attention to your front door. Doors which aren't fitted correctly, appropriately sealed, or are damaged could be letting bad weather leak in to your home. Ineffective doors can not only damage the interior of your home but also increase your heating bill if a constant draft is your problem.