5 Nifty External Door Tricks for Maximum Impact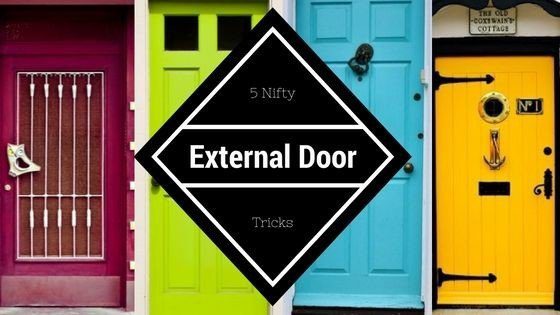 From 10 Downing Street to Frodo's Hobbit door, our external entrances are what visitors first clap eyes on when visiting our homes. More often than not our front doors are left neglected, battling the elements alone, feeling only the gentle caress of the postman's hand. They are slammed, left open, and some of us have spent hours peering through the letterbox at our mobile phone and keys left on the table. 
Our external doors put up with a lot, and treating them to a new knocker or lick of paint can give them the facelift that they deserve. So, if your front door is looking a little weary, perhaps one of the five revamp ideas below can give it a new lease of life. 
Ghastly Gargoyles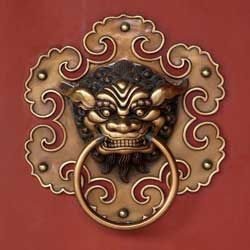 For fans of the 1986 Bowie classic, The Labyrinth, opting for a gargoyle door knocker will be a no-brainer. Unlike the effigies in the movie, it is unlikely that yours will talk, but this does not mean they cannot help your external door pack a punch. 
These ghoulish gothic embellishments aren't to everybody's taste, but the character they add to a door is undeniable. They were originally used to ward of malignant spirits and witches, perhaps ideal from keeping nosey neighbours from your abode? 
Paint Brushes at the Ready
T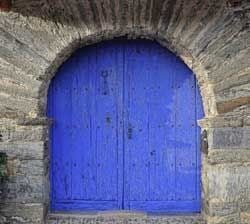 he colour of your front door can give an instant impression about you and your home. There are colours that make a statement, such as yellow, and others that evoke certain emotions. 
Painting your front door is a quick and cost-effective way of giving your home a completely different feel and look. However, it is worth remembering that your door will need a specialist paint. Don't reach for the bubble-gum pink paint knocking about in the garage, or you will come home to a very sorry looking door if it rains!
A Blast from the Past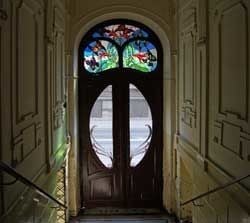 Who can argue against the beauty of an art form that has a 1000-year history? Stained glass windows are found throughout churches and cathedrals, and are now making their way into our homes. Although an expensive option, stained glass can become an enchanting focal point of your external door. 
Stained glass front doors look particularly at home as part of period properties, especially Victorian and Art Deco. Keep your eye out at auction houses and antique shops, you can often find bargain front doors with stained glass panels, they may just need some TLC.
Go Incognito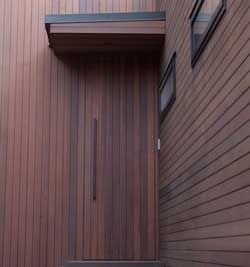 You would have to give visitors a forewarning with this door facelift, but what a novel way to integrate your external door into the entire aesthetic of your property. This camouflage concept screams Grand Designs, and would be perfect for modern and contemporary homes. 
Unless you're a building a house from scratch, or have an expert on hand, chances are you are going to have to get the professionals in. However, it does not have to be eye-wateringly expensive. Entire properties have been covered in shells, flowering plants and, even mirrors. 
Lend a Hand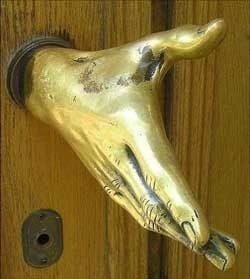 An option for the eccentric amongst us is a hand shaped door handle. These eerie fittings are actually becoming increasingly popular, as people drift away from the traditional knobs and handles. 
Door handles with character can immediately change the aura of a home, and give a feeling as to its occupants. People all over the world have been adopting different designs, particularly based on their hobbies. There are spanner handles, fish door handles and, of course, cat door handles. 
Sources: