5 Easy Ways to Boost Your Front Door for Summer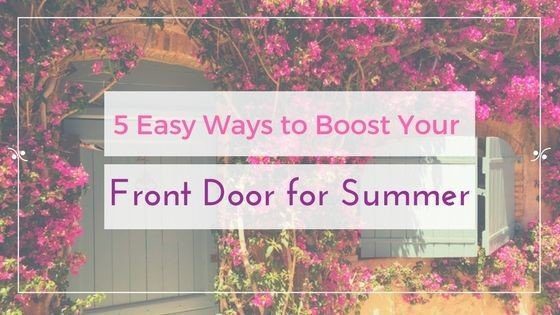 The weather may not be playing ball, but it is technically now summer in the UK. The weatherman promises us the world, but even the sunniest days still have a chill in the air. After winter, our external doors can often have been battered by elements and desperately in need of some TLC. So, why not egg summer on and spruce up your front door to make sure your home is looking summer time fine for when the warmer weathers arrives? 
Inject Some Colour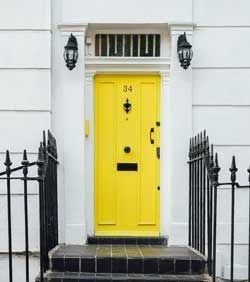 Nothing can refresh your front door more quickly and cheaply than a lick of paint. An average sized front door will take around 1 litre of paint to cover, just bear in mind you may need to splash out on an extra tin if you are going for a dramatic colour change. Not only does opting for a new colour give your home instant curb appeal, it can also be something to sway potential buyers if you are selling your home.
The paint options for external doors are endless so why not pick a colour you love or something completely out of your comfort zone? Don't be afraid to try something new. At the end of the day, it's only paint! 
If you aren't sure which shade to go for check our guide to front door colours. 
Update Door Furniture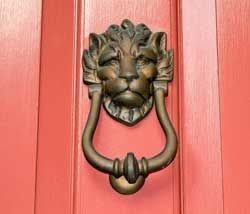 If you've treated your door to a new colour, or simply don't want the fuss of getting the paint brushes out, get creative with different door furniture instead.
Opting for your house number to be in a quirky font or letterbox to be a contrasting colour can bring character and life to even the weariest front doors. A super quick option is to fit a unique door knocker; if you scour the web there are some truly beautiful and bonkers designs to install. 
Get Green Fingered 
Even if your front door faces straight out onto the street, there is no reason why you cannot add some foliage. A great option for those limited by space is popping some trellis around your door frame and encouraging plants to wind their way up it. Some of best flowering climbing vines for this include honeysuckle, clematis, wisteria and jasmine.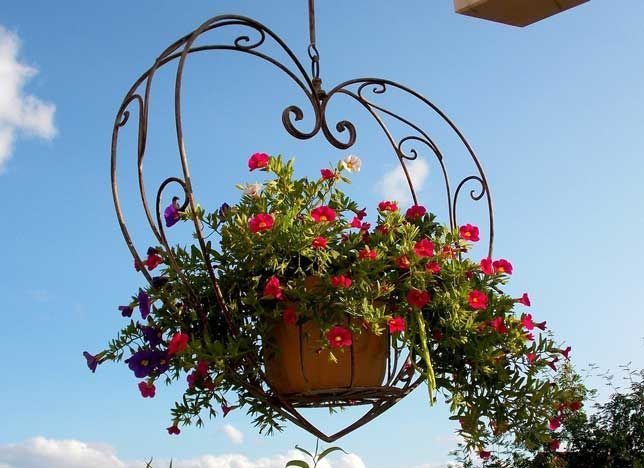 If you have a porch or front door with ample space, small trees or pots planted with flowers can refresh the look of your home. Evergreen shrubs are a great option for container gardening and will remain attractive all year. 
If you don't fancy leaving plants in pots on the ground, hanging baskets are a handy alternative. They can be as big or as small as your desire and the options for flowers to plant in them are endless. Some of the most popular hanging basket flowers include fuchsia, lobelia, pansy, petunia and lantana. 
Let There Be Light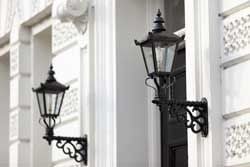 Because we often don't notice them during daylight hours, any lighting around your front door can often be forgotten. Replace any duff bulbs or give the tired looking LED lamp a new casing. You could even go one better and install a hanging lantern or admiral style light which are extremely trendy. 
Lighting up your front door is not only handy for returning home in the dark, but injects charm into your doorway and is a useful home security addition. 
Finishing Touches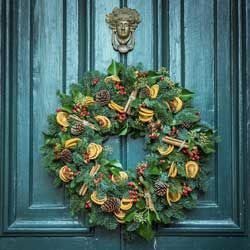 After utilising some of the previous tips, chances are your front door is unrecognisable. If you feel it is still lacking a certain je ne sais quoi, perhaps consider one of the following final touches?
An obvious quick fix is investing in a brand-new quality door mat. The door matt market is rich with different designs and finishes but all will add a sense of welcoming to your front door, as well as stopping little ones and pets traipsing mud through the hall. 
If you have the time and the inclination, don't forget to bring some seasonal character to your door. Whether Christmas or Halloween, embrace the different times of year and annual festivities by getting your hands on some bunting, pumpkins, or flags.