What's the secret project behind JB Kind's door?
Our new website makes your life easier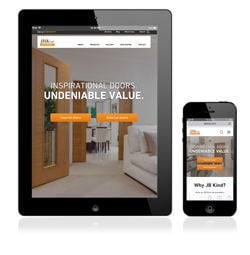 At our Head Office in deepest Derbyshire, we've spent the last few months working on a pretty big project, one that will have lots of benefits for customers just like you – and now we're ready to share! So what have we been up to? Well, we've been creating our new JB Kind website, information centre and lifestyle gallery that we're pretty sure will open lots of doors for you! And it's so much more than 'just' a website…
Our new website is one of the most comprehensive packages of door-related information available in the UK and it's packed full of useful information and images, great tips and handy blogs, so you'll now be able to get practical advice, be inspired and find out more about every aspect of doors, 24 hours a day, seven days a week.
There's our stunning gallery of lifestyle images that will help you to picture each door style in your home, there's also practical tips in our Information Centre on topics such as how to hang a door and the maintenance of your doors, for those of you keen on DIY, and for our more technical trade customers, we've also added vital information like all the door codes and sizes too.   
Whatever you want to know about doors, the chances are it's on our website and it's all written in easily digestible chunks and non-technical language.
In addition to the new Gallery and Information Centre, the new JB Kind website now also has a more user friendly face and broader appeal. You'll be able to see all of our 200+ JB Kind doors online, use the Supplier Locator to find your nearest outlet and use the new Door Finder search option to help narrow down your choice of door by type, finish and style.
So getting your hands on one of our exclusive door designs is now even easier – why not download a brochure, submit a quote request form or click on one of the links to our online partners?
 
We would love to have your feedback and thoughts, so please contact us.
Certifications & Memberships