Poignant 14 mile walk fundraises for National Memorial Arboretum
The National Memorial Arboretum (NMA) is our chosen charity for 2015 and our main fundraising event, a poignant 14 mile walk, will be taking place in August. Honouring a local hero, Lance Corporal William Coltman, the most decorated other rank in the British Army following recognition for his heroic actions during the assault on the Hindenburg line in October 1918, this walk is no ordinary walk.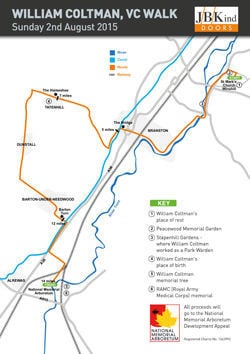 Carrying one of our 25kg doors and aiming to raise more than £5000 to support the building of a new NMA visitor centre, the 14 mile walk (organised in conjunction with the Friends of the Arboretum) will visit several poignant and important places in L/Cpl Coltman's life and passing.
At JB Kind valuing the contribution of servicemen and women to this country is really important to us and one way we can show our respect is by dedicating this fundraising walk to one of our most significant local heroes, Staffordshire Regiment's Lance Corporal William Coltman. If this is important to you too, perhaps you could donate what you can to our fundraising efforts via our Just Giving page – JB Kind Doors William Coltman, VC, Memorial Walk.
On the 2nd August at 9am around 50 people, all staff, friends and family of JB Kind as well as the Friends of the Arboretum, will set off from L/Cpl Colman's resting place, St Mark's Church in Winshill, Burton-on-Trent and spend the next seven hours completing the walk, carrying our Trent door, (from our River Oak Traditional range), draped in the Staffordshire Regimental flag and held like a stretcher, to honour L/Cpl Coltman's role as a stretcher bearer in the first World War.
During the route we will visit Tatenhill Common where L/Cpl Coltman was born, Stapenhill Gardens where he worked as a park warden, the Peacewood Memorial Garden and the Arboretum which is home to L/Cpl Coltman's memorial tree and the Royal Army Medical Corps memorial. Visiting these places as part of our fundraising memorial walk will enable all of our number to take some time to remember William Coltman's actions, as well as the vital part our current servicemen and women play every day in keeping peace and protecting our lives.
If anyone reading this would like to meet us as we finish by the Coltman Memorial Tree at the National Memorial Arboretum, Alrewas, Staffordshire,we would be delighted, or if people could cheer us on and pay their respects at a location along our route that suits them best, we would also be very grateful. Here is where we'll be and when (we can only estimate times):
The route starts at St Mark's Churchyard at 9am
Winshill (Peacewood Memorial Garden on Mill Hill Lane) – approximately 9.15am
Burton on Trent (Stapenhill Gardens) – approximately 10.00am
Branston Water Park – approximately 10.45am
Tatenhill village (Horseshoe public house) – approximately 11.30am
Barton under Needwood village (Shoulder of Mutton public house) – approximately 1.30pm
Barton Marina (main entrance) – approximately 2.00pm
Catholme road bridge over A38 (layby on no through road off southbound slip road) – approximately 3.00pm
National Memorial Arboretum (footbridge over River Trent) – approximately 3.30pm
The walk is planned to finish at the Coltman Memorial Tree at just after 3.30pm
On the day we will also be carrying buckets to raise money for the National Memorial Arboretum as we make the walk, and we will be wearing T-shirts that identify who we are and what we are doing, so if you see us pass by, please do dig deep and give generously to a very worthy cause.
The National Memorial Arboretum is the UK's year-round centre of Remembrance; a spiritually uplifting place which honours the fallen, recognises service and sacrifice, and fosters pride in our country.  Sited in the heart of the Nation, with nearly 30,000 trees, it is a beautiful and lasting tribute to those who serve their country, die in conflict or have a special reason for being remembered.  It is part of The Royal British Legion family of charities. If you would like to find out more about the work of the National Memorial Arboretum, log on to www.nma.org.uk
Certifications & Memberships