The New 2015 Door Collection is now available!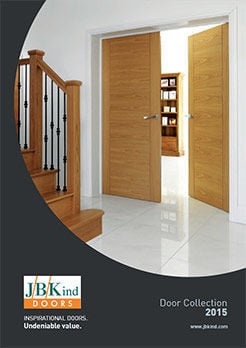 As everyone is busy preparing for Christmas, the JB Kind team is working hard getting ready for the launch of our 2015 Door Collection. 
We're pleased to announce that our new 2015 Door Collection brochure has arrived!!  You will be struck by the Wow factor when browsing through our biggest selection of door designs ever. 
With 37 new additions, 23 ranges and more than 200 doors, this year's brochure is the biggest, most excitingly innovative and stylish yet.  Plus, nearly 40% of the 2015 Collection is designed exclusively for JB Kind.
Download your copy now and if you would like to sit back and relax to read a printed copy, complete our Contact Us form and we'll pop one in the post.
Watch out for our New Year blog, as we'll be showcasing the spectacular new doors for 2015.
Enjoy your Christmas and New Year break and if you get time to start planning your home renovations for next year, don't forget your internal doors.
Certifications & Memberships