Dragonboat race for charity
Exhilarated, exhausted and ecstatic describes how me and the rest of the JBK team felt after our very first Dragonboat race, dedicated to raising money for three extremely worthwhile charities.
Competing against 14 other excellent teams, we began in heats from 10am at the event on Albert Village Lake, Derbyshire, on Sunday 17 August. Our friends and family had gathered to watch the frivolity – and some of them were even taking part in the Dragonboat race on behalf of JB Kind.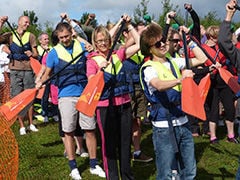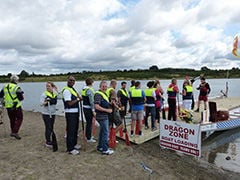 All of us had (allegedly) been training individually to make sure that we were race fit on the day but, unsurprisingly, we didn't have access to a Dragonboat or a large water space so we hadn't had the opportunity to practice as a team. Not one of us had taken part in a Dragonboat race before and we were all a bit nervous, just in case we came last by a large margin or capsized!
But in the end there was no need to worry. The Dragonboat was sturdy and short of leaping over the side, we weren't going anywhere – except forward! The first heat was, believe it or not, our best time, and as we rowed in more races, not only did we get more tired, but the competition got harder. We focussed on the three amazing charities that would benefit from our participation – Help for Heroes, Midlands Air Ambulance Charity and Rainbows – and the good work that our modest fundraising would support.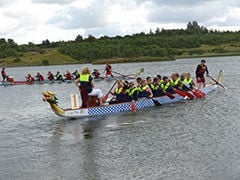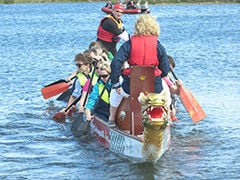 And to make our fantastic day pretty much perfect, we were awarded the trophy for raising the most money for the charities – £750 in all! The event raised over £4000 in total.
So a big thank you to all of the people that supported us, both in sponsorship and with big smiles on the day – as usual we couldn't have done it without you!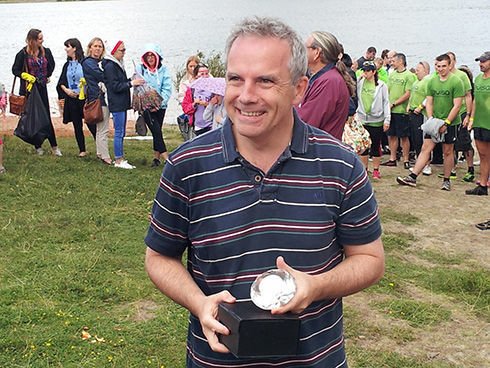 James Cadman, MD, proudly holding our fund raising winner's trophy
Certifications & Memberships