NEW! 2023 Door Collection brochure
It's the start of a new year, and that means it's time to launch our 2023 Door Collection brochure, which is available in digital form, as well as print! Boasting an additional 22 pages, our digital version is also helping us be even more environmentally friendly – reducing our reliance on paper sources. Both brochures are packed with door designs, as well as handle packs, and you can either view our digital brochure, or request a print version and we'll pop one in the post.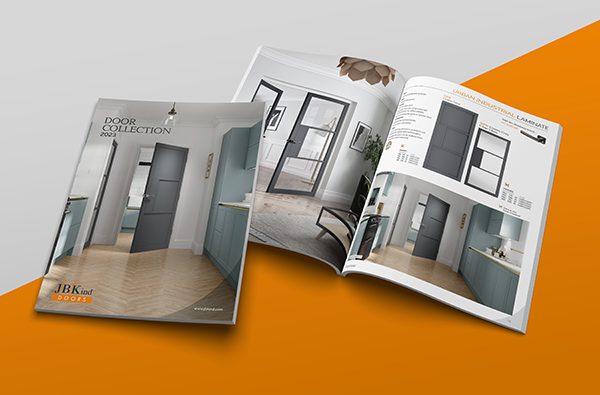 So, what's new for 2023?
Cosmo Grey's striking sophistication
If you've had your finger on the interior design pulse, then you'll know that industrial and Scandi-led home designs (and the doors inspired by these), are still at the forefront, alongside the UK's love of laminates. JB Kind has taken these themes and created an outstanding new door, that will integrate seamlessly into our Urban Industrial family, but, with an exceptionally elegant twist.

Our laminated graphite grey Cosmo Grey door design is exclusive to JB Kind and the first time a wooden industrial style door has been offered in laminate rather than painted or primed. The laminate finish is durable, uniform in appearance and perfect for those that like a subtle, textured finish to touch.
The solid Cosmo Grey option is a contemporary door which can make a bold statement, or coordinate with an interiors theme that flows throughout your home. This door design has a difference. The central of its three panels has a large lock block, giving it a distinctive look and genuinely exclusive feel.

Its sister glazed door, the Cosmo Grey Glazed, is superbly stylish. A step above suave, its individual clear glass panelling gives a structural stability that similar alternatives do not have, plus there is no need to purchase specialist ironmongery.

The design's unmistakable quality means that you have the confidence that this cosmopolitan door is a cut above its competitors and will offer the flexibility to fit within any modern interior.
Getting a handle on your home's interiors
For 2023, we are also introducing an excellent range of elegant and cost conscious door handle packs, perfectly pitched for this year's top trends and come complete, with everything you need to fit a door. As part of each exciting new style, we have also included a privacy option, which has a privacy latch and bathroom turn/release, and all the door handle packs come with a ten year mechanical guarantee, as well as three hinges (door handle packs often only include two).

Choose from our light or dark grey satin finish distinctly designed door handles, the Austin, Denver and Houston range, which are excellent matches for mixed metal interiors, or an industrial style home.

If that's not your perfect door furniture fit, then why not take a look at our contemporary chrome and stainless steel handles, the Boston, Portland, Seattle and Dallas, with these elegant – and cost conscious – handles, there is sure to be a design that will co-ordinate seamlessly with your home interior.

Our new Phoenix designs, the Phoenix Black and Phoenix Satin, offer opulent qualities, but in very different features. The Phoenix Black is a tactile, black powder-coated handle, with a luxurious soft touch finish; whereas its sister, the Phoenix Satin, has a stunning satin stainless steel finish.

View, download or request a printed copy here 2023 Door Collection.
Certifications & Memberships