Fantastic fundraising result for JB Kind Doors: £4,600 donated to Burton & District Mind
We're pleased to announce that our fundraising efforts throughout 2022 to support the Burton & District Mind charity has hit a total of £4,600 and our Charity committee recently presented a cheque to their Development and Sustainability team – who are also working with us to run mental health workshops for our employees.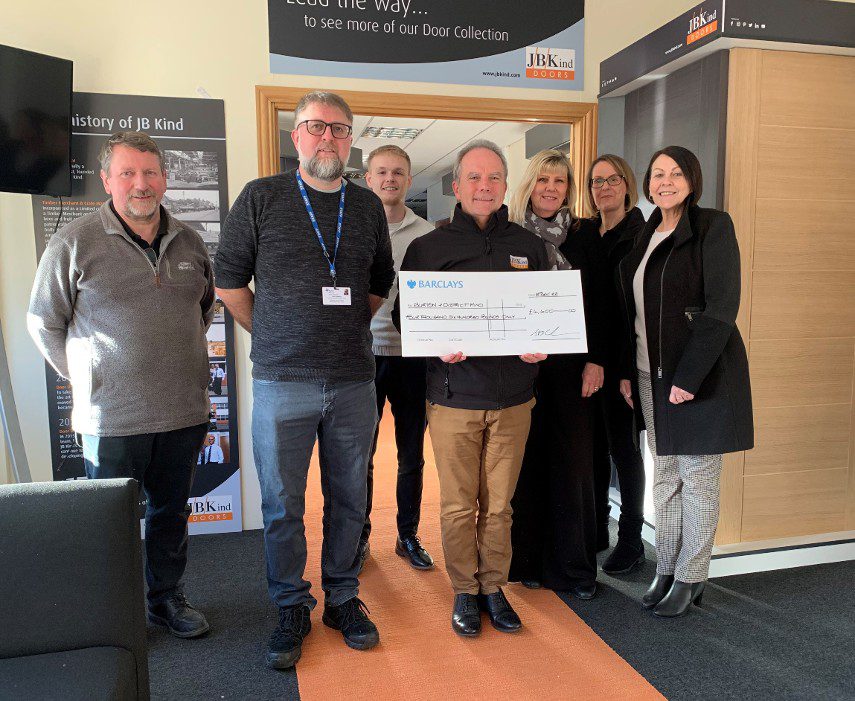 JB Kind Managing Director, James Cadman, says:
"Post-pandemic, people's mental health has become a priority, in and outside the workplace. Burton & District Mind support people across our region with all types of mental health issues, both in terms of preventative care and emergency action. Late last year our Charity Committee canvassed our employees and they overwhelmingly recognised the growing need for mental health support in our community. Our Charity Committee responded by choosing this very worthy charity which helps people on our doorstep with their everyday challenges, often triggered by the issues surrounding dealing with the Covid pandemic, and which have now been exacerbated by the cost of living crisis.
"At JB Kind we are known for our family-style environment and, as with many families, we want to support our members in dealing with the challenges that life can present. One of the ways we are keen to offer this support is by providing access to further information on mental health issues, to everyone who wants it, and who better to do that, than Burton & District Mind?"
JB Kind Doors support a different charity every two years with a committed programme of fundraising, raising many thousands annually. In 2022 the main fundraising event was our Charity Golf Day, as well as monthly dress down days, an Easter raffle and a summer Pub Quiz!
Burton and District Mind is currently celebrating its 30th year of enabling good mental health. Its team helps 3,000 people a year recover from primary mental health needs through high quality integrative counselling, as well as mindfulness, eco-therapy and peer support.
Keri Lawrence, development and sustainability officer for Burton and District Mind, said:
"Typically, Burton and District Mind see 2,400 people a year, but over 2022, we have needed to support over 3000, often with more complexity around their health and social needs. Our community is now in a prolonged mental health emergency. The pandemic has had a devastating effect on vulnerable people with existing mental health problems, with increased loneliness and poverty. Even more alarming, we have seen a rapid and lasting increase in people showing the tell-tale signs and symptoms of mental health problems, such as anxiety and depression. Furthermore, we are now experiencing further complications associated with the cost-of-living crisis – with little hope in sight.
"On behalf of Burton and District Mind, I would like to express my sincere thanks to JB Kind Doors for raising a fantastic £4,600 donation for our charity's services. The generous donation supports our Development and Sustainability Team to identify community need, build relationships with grant and service funders and develop new and innovative solutions to tackle the above challenges. For every £100 spent in this way, we generate £2,600 from other sources, such as NHS funding, grant funding, through meaningful volunteer programmes, and through further community fundraising.
"This fundraising absolutely powers the message across our communities: Please talk, we are listening. You are worth the help and together we'll find you help."
James Cadman concludes:
"I'd like to thank everyone who has been involved in our fundraising for 2022, both within our JB Kind family or those partners and participants that have made it possible to achieve our amazing interim total of £4,600, and we are looking forward to finding out what more we can contribute during our second year of fundraising in 2023.
Certifications & Memberships