MIND the Golf! JB Kind calls for charity Golf Day teams
We're pleased to announce that we'll be holding a Charity Golf Day on Thursday 22 September 2022 at Willesley Park Golf Club in Ashby-de-la-Zouch, Leicestershire. Open to everyone, from enthusiastic amateurs to seasoned professionals, we're inviting teams to sign up.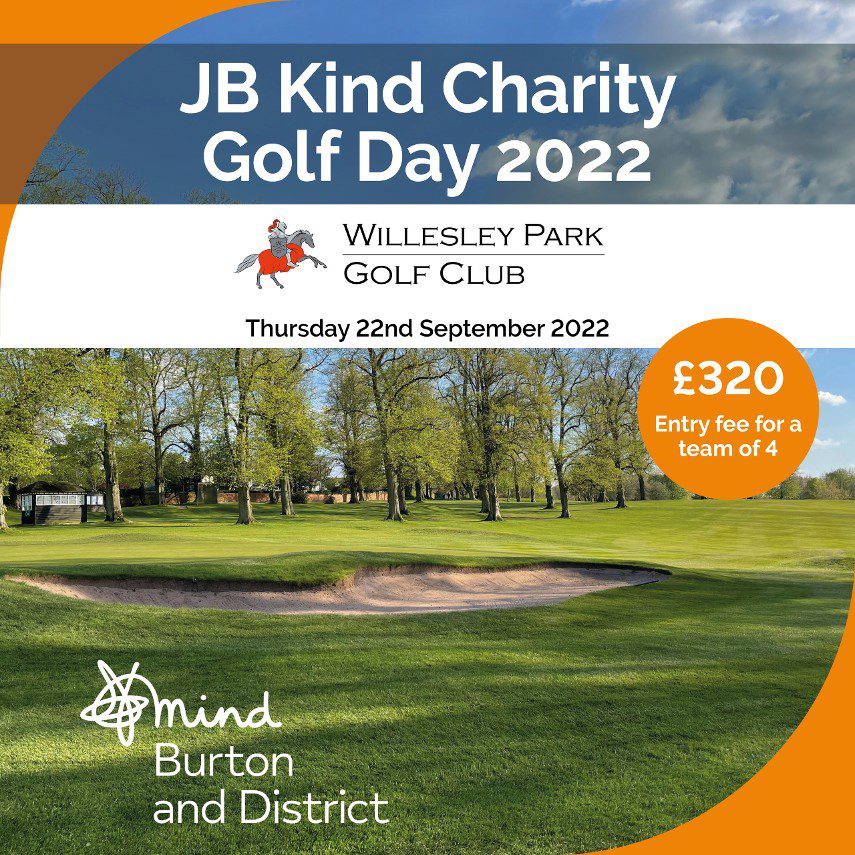 Celebrating its 30th year, Burton and District MIND support more than 3,000 people a year, helping them recover from primary mental health needs through high quality integrative counselling, mindfulness, eco-therapy and peer support.
With a fundraising target of £2,000, the day will provide a mix of friendly competition, food and fun, for those that would like to enter a team.
JB Kind's Managing Director, James Cadman, explains:
"We are proud to say that our previous Golf Days have always been exceptionally successful. We hope that this year's participants will be inspired to take part because our chosen charity, Burton and District MIND, is such an incredibly worthy cause, and following the pandemic, it is a support service that is in desperately high demand, and one which will directly benefit the people of our local community.
"We're also pleased to be able to remind people that our Golf Days have a strong track record of being a great deal of fun too! Our third charity Golf Day has been long awaited as Covid restrictions have meant that we were unable to hold one during the pandemic, however, we've certainly kept ourselves busy with other fundraising activities in the meantime!
"This is a really fantastic day out with a friendly atmosphere and in aid of an excellent cause. It is essential for everyone to look after their mental health to ensure a happy and fulfilled life, in and out of work, and we are proud to be supporting the vital work that Burton and District MIND do with thousands of local people."
Entering a team of four will cost £320, and if 18 holes of golf wasn't incentive enough, there are prizes for first, second and third places, alongside other competitions, like longest drive and nearest pin! Everyone will be well fed too, with bacon rolls on arrival and a two course presentation meal – where you can even bring a partner for an extra £20 donation. There's also a raffle that you can try your luck at, but if you don't win, don't worry, every player will get to go home with a Goody Bag!

If all this has got you 'teed' up, then, get in touch for an entry form.
Certifications & Memberships