It's all in the Mind – JB Kind announces new charity to support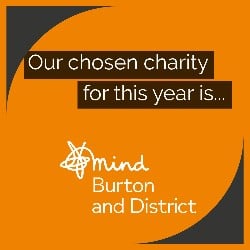 Every two years we decide to focus our fundraising efforts on a new charity, and for 2022-23 our JB Kind Charity Committee has decided we will be supporting, our local branch of MIND.
Nominations for charities came in from our employees and what was really obvious, was that mental health was at the top of many people's agenda. Burton and District Mind is a charity which is reporting a local mental health emergency triggered by Covid and we were keen to help our local community improve their wellbeing.
JB Kind managing director, James Cadman, notes:
"The pandemic has taken a huge mental health toll on many people across the globe. We are so impressed with the work that Burton and District Mind does, that we wanted to help them reach out to many more people, which hopefully we can do by pledging to raise money for them during 2022 and 2023."
Burton and District Mind are currently celebrating their 30th year of enabling good mental health. Its team helps 3,000 people a year recover from primary mental health needs through high quality integrative counselling, plus mindfulness, eco-therapy and peer support.
Keri Lawrence, development and sustainability officer for Burton and District Mind, said: 
"Our community is now in a mental health emergency. The pandemic has had a devastating effect on vulnerable people with existing mental health problems, with increased loneliness and poverty. But even more alarming, we have seen a rapid and lasting increase in people showing the tell-tale signs and symptoms of mental health problems, such as anxiety and depression, for the first time. 
"The generous donations from JB Kind will enable us to help even more people through subsidising high-quality counselling and holistic services, and through our volunteer-led projects. The donations will power our message across the Midlands for post-pandemic recovery."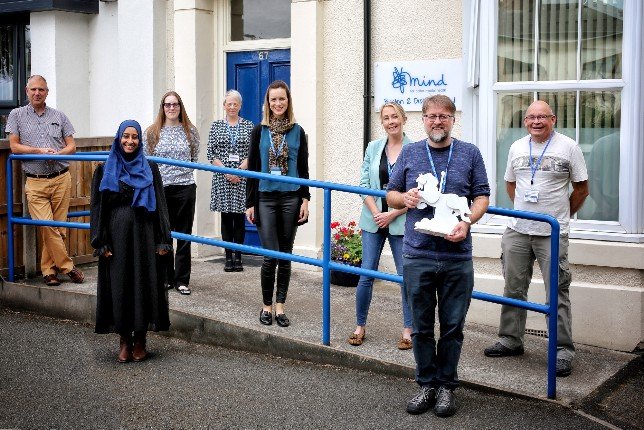 James Cadman continues:
"We have planned a timetable of fun activities to raise funds for this significant and  important charity which kicks off with a Winter Olympic sweepstake in February. Other planned activities include an Easter raffle, summer pub quiz, baby photo competition and golf day, plus a monthly dress down day. 
"Here at JB Kind charities are very important to us – in fact, it's definitely fair to say we like to put the 'fun' in fundraising! In the past we have supported such worthy causes as Macmillan Cancer and Dementia UK, with all sorts of mad adventures including going on a trek up Mount Snowdon carrying one of our heaviest doors! The team have also thrown themselves out of a plane, and held a Warehouse Olympic Games. Over the last 10 years we have raised more than £35,000 and we can't wait to start our fundraising programme for such a very worthy cause as Burton and District Mind."
Our most recent fundraising has been for Dementia UK, for which they raised more than £8,000 over a three year period (extended from the usual two year commitment because Covid limited the fundraising activities which could be undertaken by the company).
Certifications & Memberships