JB Kind announces 2017 fundraising total
Our fundraising efforts over the last 12 months have been dedicated to MacMillan Cancer Support and we're please to announce that we've raised a fantastic £4,100!
 
The 2017 programme of raising money has been varied and, as is often the case with JB Kind we like to add our own unique twist. From fun activities, like cake sales, raffles, to the more eccentric – like taking a ten-mile trek through the East Midlands countryside carrying a green wooden door, JB Kind staff, friends and family have been working hard to make a difference to MacMillan.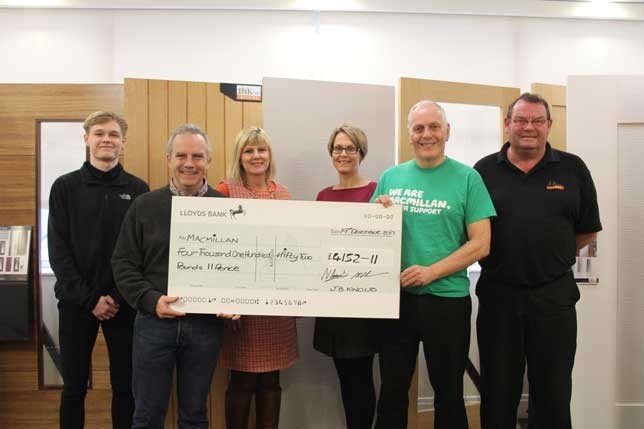 JB Kind Managing Director James Cadman said:
"Twelve months ago, our Charity Committee decided we would spend 2017 raising money for MacMillan Cancer Support, an exceptional charity that touches the hearts of so many people in our local community. In fact, for the first time at JB Kind, we decided to dedicate the majority of our fundraising efforts to MacMillan for two consecutive years, 2017 & 2018. We also support other charities on a smaller scale, however, each year we will choose a main beneficiary for our efforts.
"During 2017 & 2018, we are planning to raise £5,000 for MacMillan, with the money JB Kind raises being used to support Macmillan's Grant Programme in South Derbyshire and East Staffordshire – this means we will be directly helping those in need in our local community. 
"Macmillan Grants are an essential part of practically supporting those people affected by this life-changing disease. Most of us don't consider what will happen when we are forced to take a considerable period of time off work and necessities like heating or clothing can often become difficult to afford. The MacMillan Grant Programme helps people to access financial support in the form of grants, usually consisting of around £400, which can go towards living essentials and make a practical difference to their everyday lives – in Derbyshire alone last year, the MacMillan Grants Programme distributed £150,000 to more than 400 Derbyshire residents."
MacMillan's Fundraising Manager for Derbyshire, Olympia Shipley, comments:
"JB Kind's fundraising efforts have been really inspiring over the past year. From sweepstakes and raffles to their Calke Abbey walk, they have worked so hard to raise over £4,100 during 2017. 
 
"98% of our income comes from kind-hearted supporters, who raise vital funds to help people affected by cancer. JB Kind will be helping to fund patient grants in their local area, which are essential for people in great financial need. We cannot thank them enough for this support! They have made a huge difference."
JB Kind Managing Director James Cadman concludes:
"We are thrilled that our MacMillan fundraising total amounts to £4,100 already and, by the end of next year, will have thoroughly beaten the initial £5,000 target we set. However, whatever monies we raise, the charity will always need more so I would like to thank everyone that has already donated to this fantastic cause but I would also like to encourage anyone who is able to spare a few extra pounds, to get in touch with Macmillan Cancer Support to call them (free) on 0808 808 00 00 (Monday to Friday, 9am-8pm) or log on to their website www.macmillan.org.uk to find out more." 
Certifications & Memberships