Extremely well done: JB Kind announces competition winner
Congratulations to Keith Picton, the lucky winner of our 'Extreme' competition. Keith, the owner of Picton Carpentry in Slough, was presented with the first prize of a 'totally radical weekend' in a VW campervan by Simon Johnson, Sales Director at JB Kind.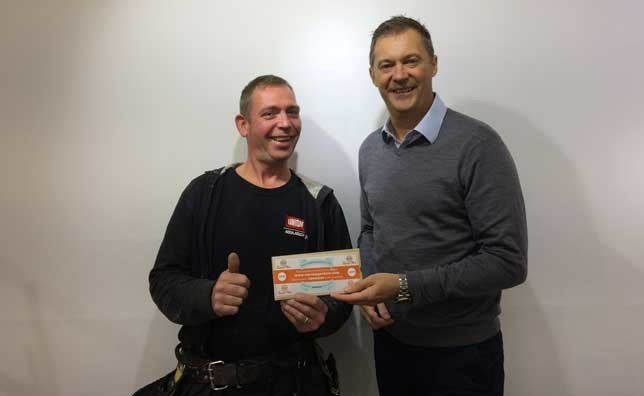 There were also 50 runners-up in the competition, who will also be receiving an exclusive 'Extreme' branded hoodie. 
The 'Extreme' competition, which ran from July to October 2017, received over 300 entries in total, and coincided with the launch of our new External Extreme door range, which offers exceptional durability and weather resistance, thanks to a top layer of MEDITE®TRICOYA®EXTREME. All doors are also sealed with a factory applied paint finish and available in seven traditional and contemporary styles to suit every type of property.
Simon Johnson, Sales Director at JB Kind, said: "Many congratulations to Keith for winning first prize! We were delighted with the overwhelming response to the competition, which proved popular with joiners and builders alike. Not only did we receive a fantastic amount of entries, there were also plenty of enquiries about our exciting new 'External Extreme' door range." 
Commenting on his victory, Keith added: "I'm over the moon to have won the competition; I entered when I saw it posted on Facebook, and couldn't believe it when JB Kind contacted me to tell me I was the winner. It's a great prize and I can't wait to book my 'Extreme' weekend away!"
The External Extreme range is specifically designed for entrance doors and offers unrivalled durability in the timber doors market. MEDITE®TRICOYA®EXTREME is resistant to fungal decay, has enhanced stability with limited swelling or shrinkage, plus offers reduced maintenance costs. These competitively priced doors are also perfect for over painting and boast a 10-year guarantee.
The External Extreme range is available in seven of JB Kind's most popular styles, including double glazed options, the Tigris/Tigris Glazed Extreme, Thames/Thames Glazed Extreme, Colonial/Colonial Glazed Extreme, as well as the 2XG Extreme. 
Certifications & Memberships