What's behind the Green Door? 30 JB Kind staff and friends!
Instead of swanning around in the sunshine on 6th August, we trekked ten miles through the Derbyshire and Leicestershire countryside, carrying a green wooden door, in aid of MacMillan Cancer Support. We teamed up with family and friends to undertake the trek, aiming to raise £1,000 from the event for this worthy cause.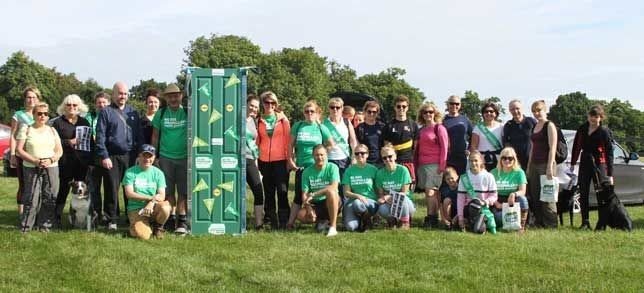 JB Kind Managing Director James Cadman said: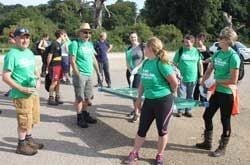 "During 2017 & 2018 we plan to raise £5,000 for our primary charity MacMillan and with one in two people now facing a cancer diagnosis in their lifetime, it is a cause that is extremely close to many of our hearts. Thirty people took part in our fundraising walk on Sunday 6 August and we are very pleased to report that, after planning to raise £1,000 through this event, we have raised over £2,500, with sponsorship money still coming in.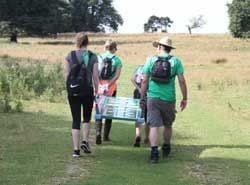 "A sponsored ten-mile walk, whilst challenging, can seem a little ordinary, so we decided to carry one of our full sized wooden doors, our Canterbury model painted in green, along the route to grab the attention of passers-by and raise a little more money along the way."
The walkers started and finished at Calke Abbey and took in Staunton Harold, Breedon on the Hill, Melbourne and Staunton Harold Reservoir en route. The team also took part in a 'Door Treasure Hunt' along the way where they had to spot and identify 24 interesting doors along the path of the walk.
James continues: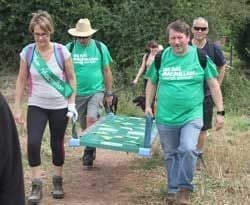 "The money that we raise will be used to support Macmillan's Grant Programme in South Derbyshire and East Staffordshire so that local people will directly benefit from our efforts. Macmillan Grants help people who have cancer and are struggling financially to meet costs that can arise from the condition and its' treatment. Most people don't consider what will happen when they have to take an extended period off work due to sickness and the necessities like heating or clothing can often become difficult to afford. The MacMillan Grant Programme offers grants of, usually, around £400 which can go towards a wide range of practical outgoings and can make a real difference to those people suffering with this disease."
MacMillan Cancer Support Fundraising Manager Olympia Shipley comments:
"With over 98% of our income received from donations, we could not provide the services that we do without supporters like JB Kind. 1 in 2 people will receive a cancer diagnosis in their lifetime and we want to ensure that anyone affected by cancer can reach our services.
"JB Kind's Calke Abbey walk was an inspiring way to raise vital funds and we are so proud of the challenge that their team undertook. They are making a huge difference by supporting patient grants in their local area. Well done everyone!"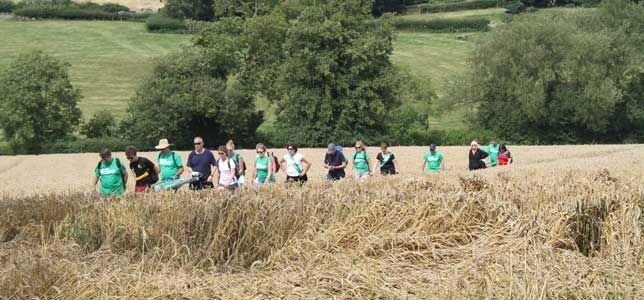 JB Kind Managing Director James Cadman concludes:
"Since our Charity Committee's announcement in April that our chosen charity for a two-year period would be MacMillan, we have already held a number of smaller events and will be continuing to hold sweepstakes, bake sales and raffles to top up the fundraising pot. In 2018 we are also planning a repeat of our very successful charity golf day, held in 2015 to benefit the Burton Stroke Club, where we hope to raise another large amount of money, this time for MacMillan Cancer Support.
"I'd like to thank everyone that has already donated to this fantastic cause and supported JB Kind in its endeavours. If anyone feels they are able to spare any funds to dedicate to Macmillan Cancer Support then you can call them (free) on 0808 808 00 00 (Monday to Friday, 9am-8pm) or visit Just Giving – JB Kind Doors
"You can also use the same free number to contact MacMillan, or log on to its website at www.macmillan.org.uk, if you or a loved one are struggling with the disease and they will offer you support, information and advice."
Certifications & Memberships