Put a 'Pin' in it, JB Kind's next Charity Golf Day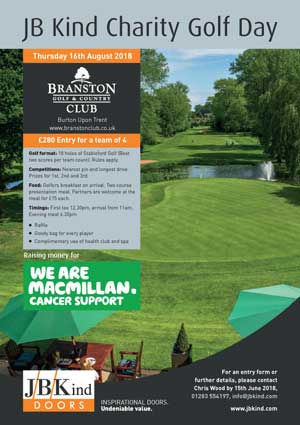 For the second time we are organising a Charitable Golf Day and if previous experience dictates, will raise over £2,000 for this year's nominated good cause, MacMillan Cancer Support. Open to everyone, from enthusiastic amateurs to dedicated professionals, the Golf Day will be held on Thursday 16th August 2018 at Branston Golf Club, Burton-on-Trent and is set to be a sell-out, once again.
James Cadman, Managing Director, explains:
"The last Charitable Golf Day was very fruitful for the charity concerned, but it was also a great deal of fun for the participants! This year we will be playing 18 holes again, with prizes for first, second and third places, as well as other competitions on the day too, like nearest pin and longest drive. For those that miss out on these accolades, there are still Goody Bags for every player on the day, so no-one goes home empty handed!
"Our chosen charity, for 2017 & 2018, is MacMillan Cancer Support, an exceptionally worthy charity that supports people coping with a disease that has touched the lives of so many of our loved ones. The money we raise at this Golf Day, and from all of our other fundraising activities in 2017 & 18, will go directly to helping families in South Derbyshire and East Staffordshire and will provide small grants to those in need.
"A real mix of people and professions enter, and many golfer's partners come along later to attend the evening meal*. If you're interested in finding out more about attending our Charitable Golf Day, then please don't hesitate to give us a call on 01283 554197.
Entry for a team of four is £280 and each team will play 18 holes of Stableford Golf, with the best two scores per team counting as the team's competition submission**. All golfers will receive a 'Golfer's Baguette' on arrival and the presentation meal will be two courses.
MacMillan's Fundraising Manager for Derbyshire, Olympia Shipley, comments:
"JB Kind have been a fantastic supporter of Macmillan Cancer Support. In 2017, they raised an incredible £4,152! This was enough to fund 20 patient grants to help people living with cancer heat their homes.
"Every day in Derbyshire, 16 people hear the devastating news that they have cancer. With JB Kind's continued support, we can help even more people affected by cancer to access patient grants in their local area. In particular, we're so excited to see their upcoming Golf Day in August, which I'm sure will be a great day for everyone! I'd like to thank the team for their hard work and continued support!"
*For partners to attend the evening meal, there is a £15 charge.
**Further competition rules apply
Certifications & Memberships