Welcome to our new showroom
Whether you're a self-builder, builder-developer, architect, specifier or home renovator, we welcome you to JB Kind's exclusive new door showroom at our home in South Derbyshire.  We've invested in a major re-fit to our 1,200 sq foot showroom and are offering tailor-made appointments so that visitors can have a good look at our large range. So, if you've never been – now's the time to visit us and see the largest range of JB Kind doors in the UK!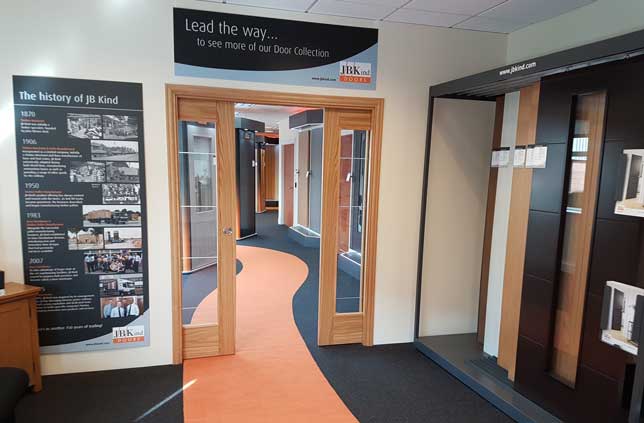 Door types … from classic to contemporary
You'll be able to see more than 70 door designs: laminates, oak, walnut, white and painted finishes in a variety of styles, many of which are exclusive to JB Kind. Sometimes it can be hard to visualise what a door will look like in your own property – our selection of "feature doors" are displayed in a way that means you'll be able to see their impact on the surrounding space.
When you're embarking on a self-build, renovating a property or just giving your home a bit of a face-lift, there's no doubt that your choice of door is pivotal to the overall look. We are confident that no matter what type of style you are looking to match, we will have a choice of door designs that will fit the feel of your scheme and be affordable too.
Visiting the showroom
Our new showroom can be accessed by appointment only – that way, we can ensure everyone gets our full attention. There will be a dedicated door expert for each visitor to answer questions and provide a tour of all our doors.
Some of our customers already have a good idea of the doors they'd like to see. If that's the case for you, it's easily arranged: if the doors you'd like to see are not already out on display we have a dedicated holding area where they can be stored ready for your arrival. To make sure you'll get to see the doors you want, just let the team know when you book what doors you'd like to view and they will have them ready for you. Book a Showroom appointment here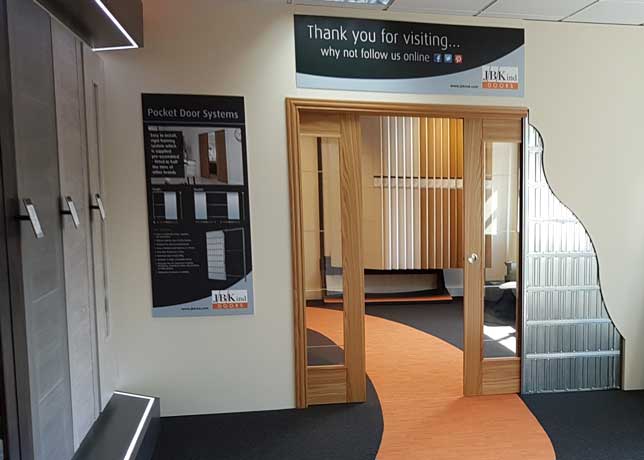 Keeping things practical
See examples of some of our most innovative designs, from clever space-savers to all-weather heroes … and don't forget the little things: handles, hinges, locks …
When we gave our showroom its custom-made re-fit we thought carefully about everything customers might like to see. One practical element in our new space we're particularly proud of is the complete double pocket door system with some of the outer stud wall missing, so that visitors can see how the innovative sliding door system works.
You'll also be able to see our Rebated door pair and the neat finish this achieves.  Not forgetting "door furniture" as well – handles, hinges and locks … they're on display too.
We're flexible … so you can get the look you want
When you visit our showroom, you'll be able to discuss any bespoke requirements with one of our Door experts.  Sometimes there will be a special requirement: perhaps for made to measure door sizes, a different door style or finish, an alternative glazing option or specific fire requirement.
Dedicated showroom staff
We wouldn't be able to offer the fantastic service we can without our excellent staff. When you look round our showroom, your dedicated door expert will:
Offer specialist advice so you can make sure you match your requirements with the perfect door
Answer any questions you may have and ensure you see everything you'd like to see
Arrange for your orders to be managed through a supplier of your choice
So … what are you waiting for? Come on down and visit us!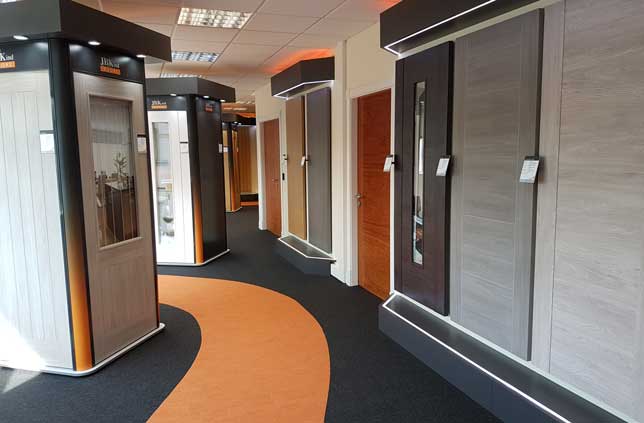 Certifications & Memberships